Event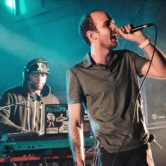 2 Slices w/ Fusion Jonez
Venue:

Friday Night

Doors:

9PM
Tickets are $8 in Advance $10 the day of the show…Doors 9PM Show 10ish
Ages 21 Up or with Parent
There's a lot to love about 2 Slices' debut electro-pop single, "Slow Poison," like the fact that the video for the track was shot in just one take.
https://www.facebook.com/2slicesofficial/
https://www.facebook.com/FusionJonezSC/
Frontman Danny Martin choreographed it all himself, and the result will leave you joyful and wanting to relive your teenage dream — complete with singing at your reflection in the mirror — of starring in your own music video. Just lock the door, grab the nearest faux mic, and dance like you're on top of the motherfucking world.
The track itself was produced by Brave Baby's Wolfgang Zimmerman, while the video was shot at the Commodore with local filmmakers Dominic and Geno DiMaria. Aaron Sordelet ran the rad light show.
The venue is aesthetically ideal for a music video — other local musicians like Regina Ferguson and videographer Alex Veazey have shot there — however the room still presented a few obstacles for this particular one-shot effort. "After filming each take we had to clear the room of the smoke from the fog machine before we performed another take," Martin says. "The Commodore has mirrors along the walls that were challenging for the cameraman. We had to position the camera to not expose the director, cameraman, and [DJ] Lazer Cat in the reflection of the mirrors."
So where did 2 Slices come from? You may remember Martin from psych-rock band Octopus Jones, which formed in Myrtle Beach in 2008 before relocating to Raleigh. After performing in Charleston a lot over the years, Martin formed friendships with members of Brave Baby and eventually recorded an album with Zimmerman.
Octopus Jones recently disbanded, after which Martin began recording his own tunes as 2 Slices. Zimmerman soon convinced him to move to Charleston, and that's when he reconnected with Brandon Fudge, a.k.a DJ Lazer Cat, who Martin met in Myrtle back in the day. The two have performed live as 2 Slices since January of this year.