Event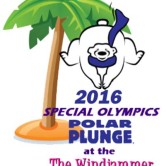 2016 Special Olympics Polar Plunge
Venue:

Saturday

Doors:

10:30 am – 12:00 pm
The chill is in the air and it is time to start getting ready to brave the waters off Isle of Palms
to help raise awareness and funding for Special Olympics. February 20th is the day and the
Windjammer is the place for the festivities to occur. Our goal is to make this year's plunge bigger
and better than last year.
Registration Begins –10:30 AM
Plunge Party – 10:30-noon
Polar Plunge –noonish
Plunge party continues
For more information contact Deputy Chief Stan Gragg of the Mount Pleasant Police Department at 843-884-4176 or
843-534-6504 or sgragg@tompsc.com.