Event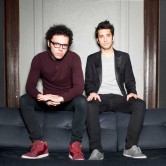 A Great Big World W/Molly Smith
Venue:

Thursday Night

Doors:

9PM

Tickets Available at Door
Halloween Party: Best Costume wins 2 tickets to see PINK in Boston on Dec 5th
Ticket are $10 Advance $12 DOS (Doors 9PM)
Brought to you by: Mix95.9
2nd Place $100 Cash
3rd Place $50 Bar Tab
Biography
The story of A Great Big World began in the crowded practice rooms at NYU. Ian Axel and Chad Vaccarino were both studying music business while fostering dreams of writing and performing on Broadway and beyond. Ian quickly saw potential in partnering with Chad, and started lobbying him to work together on new songs.
Chad smiles, "I kept blowing him off for awhile, and then one day I heard him singing nervously at the piano. I was like, 'your voice is amazing. Let's work on these songs. Let's be friends.'"
Ian laughs, "I kind of forced my friendship on him. I stalked him and made him listen to my song ideas. He told me I needed to be singing. This realization changed my life. Our friendship is super special. I feel like we've known each other forever."
At first, Ian was the artist, and Chad shared writing duties and became his manager. Chad even payed for Ian's first vocal lesson. Performing together around New York, Ian eventually stepped into the spotlight and released an independent solo album, with all songs co-written by Chad. An overwhelming viral buzz ensued, causing Ian and Chad to hit the road in support of the album, and the project continued to gain steam. Their music became a favorite among music supervisors, earning licenses on One Tree Hill, MTV, The Amazing Race, ESPN, Good Morning America and more, as well as a performance on the Rachael Ray Show.
They completed their first national tours and opened shows for Ingrid Michaelson, Five For Fighting, and Glee star Matthew Morrison. Their live performances showcased their deep friendship, and featured a warm, engaging interplay and theatrical touches reminiscent of artists like Simon and Garfunkel, Elton John, and most currently, FUN.
Despite Ian being the front man, Chad was always there in a writing and performing capacity. Then in 2012, the duo had an opportunity to officially re-brand themselves, and that's when A Great Big World was born. Making positive, piano-driven pop bursting with harmonies and woven together with a fun whimsical twist, the duo crafted a six-song EP funded entirely on Kickstarter by fans. "It's optimistic, hopeful pop music," Chad says. "There are fewer songs about heartbreak and more about the meaning of life. But even the most painful of our songs are hopeful."
And along with the new project and new energy, brand-new opportunities are emerging. To start, their song "This Is the New Year" is now gaining a new life by being performed by the cast of Fox's hit TV series Glee. "When we wrote "This Is the New Year," we always said 'this would be perfect for Glee!'" enthuses Chad, "We still can't even believe it's all real."
They've certainly chased their dreams and they're going to continue to do so. But there is something even greater at play. "Writing is our therapy," Ian concludes. "And when we can connect with people through our music, it's transformational. We're not alone. Our songs are your songs. And that's what it's all about."