Event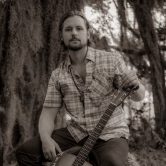 Andrew Beam on the Bud Light Seltzer Beach Stage
Ticket are $10
Doors 6:00 Show at 7:00ish…
Ages 21UP or with Parent
If for any reason this show needs to be moved in doors…Only the first 400 tickets will be valid for entry…Out door only tickets will be marked before purchase and automatically refunded to the Credit Card used to purchase!
Raised in the Blue Ridge Mountains of North Carolina, Andrew Beam grew up surrounded by the culture that gave rise to so many great artists, from Don Gibson to Ronnie Milsap, Charlie Daniels to Randy Travis, from Chet Atkins all the way through Eric Church….it must be something in the hills.
The son of a bluegrass picking preacher, Andrew learned about roots music at its actual roots: bluegrass festivals, church socials, and front porch get-togethers.
An avid fisherman and serious bowhunter, Clemson University alum Andrew was serving as a game warden with the South Carolina Department of Natural Resources when a mutual friend introduced him to RCA Victor/Moonwatcher Records producer Joe Taylor.
As a result of this meeting, the two became friends and musical partners, and Andrew became a full-time writer and artist.
Says Taylor: "Andrew is the genuine article. Every word he writes and sings rings true, and every show he does is a journey to the real heartland of country music. A rich, iconic American voice; unusual in such a young artist."
Cut to present day, where Andrew Beam has built a strong fanbase in the Southeast, surrounded himself with a close group of loyal friends and associates, assembled an all-star band, and is all set to release his first full length LP in April of 2021, Selma by Sundown.
So, welcome to Beam Country….Beam like the whiskey, Country like the music!