Event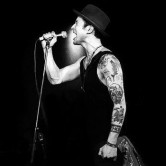 Andy Suzuki W/Thomas Champagne (late)
Venue:

Thursday Night

Doors:

8PM – 01:30 am

Tickets Available at Door
Tickets are $5 (Doors 8PM Opener 9PM & Andy at 10PM) Thomas Champagne 12AM

About the band
Independent NYC-based band, Andy Suzuki & The Method, recently released their highly anticipated LP, Born out of Mischief. They crowd-funded nearly $50,000 to record and produce the new album with the support of their fans. Born out of Mischief is the band's definitive full-length album — their folky take on rock music today.
The band is fronted by the songwriting duo of Andy Suzuki, a half-Japanese half-Jewish vocalist/guitarist/pianist from Maryland, and Kozza Babumba, the grandson of Grammy Award-winning Nigerian percussionist, Babatunde Olatunji.
The band has been writing and touring since 2008, but in the last year alone, they have had Official Showcases at SXSW and CMJ, performed at major music festivals in the US, and played shows at storied NYC venues such as Bowery Ballroom, Joe's Pub, and SOBs. In the fall of 2012 they played internationally with a wildly successful 3-week tour in Southeast Asia.
http://andysuzukimusic.com/index.php