Event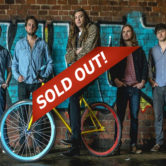 Atlas Road Crew & The Travelin' Kine
Venue:

Monday Night

Doors:

9PM – 2AM
Tickets are SOLD OUT…Doors 9PM Show at 10PM
Atlas Road Crew
South Carolina rock 'n' roll shot with southern soul accents. Formed in fall of 2011, Atlas Road Crew is rapidly building one of the most loyal fan bases on the East Coast, packing venues to capacity from South Carolina to New York City, and expanding rapidly to major US cities in between.

The overwhelming positive response to the band's latest recorded effort Halfway to Hopkins,produced by Grammy Award winning producer Rick Beato, has this young band quickly becoming the South East's "must see" live act of 2015.
Halfway to Hopkins is a sonic blast from start to finish, bringing swampy southern accents to fresh, contemporary tunes while managing to capture the band's blistering live show prowess on tape. The title refers to a small community outside Columbia where the band lived for several years after graduating from the nearby University of South Carolina. "That house, which was halfway between Columbia and Hopkins on the southeast side of town, was where we really began to come together," Says drummer Patrick Drohan. "We knew then we wanted to become more than just another bar band."
Riding the momentum of the record release, Atlas Road Crew's constant touring led them to a 6 week European tour in early 2016 followed by an aggressive US club and festival run. Aussie rock 'n' roll blog 100 Percent Rock sums it all up nicely in their review, saying in no uncertain terms "This is EXACTLY the sort of music we should be listening to right now: bands taking old favourites and adding new directions, writing great songs, delivering ace performances. This is the good stuff."
The Travelin' Kine
is a Red Dirt/Americana band from Charleston, SC.

https://www.thetravelinkine.com
2014 & 2015 City Paper Americana Artist of the Year winners The Travelin' Kine are on the move. In two short years this hardworking local outfit has logged serious miles honing their sound: a mix of potent songwriting and fiery country chops, doused with a few shots of whiskey. With the help of a seasoned crew of local talent, singer Slaton Glover delivers a musical message of hellfire and heartbreak, leaving it all on the stage at every performance. Releasing their first album in early 2016, the Kine's first single "Change in the Wind" was voted 2015 CPMA Song of the Year. The Travelin' Kine amounts to some of the best lowcountry music in years. Catch them if you can!