Event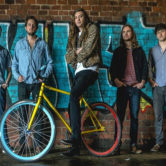 Atlas Road Crew on the Bud Light Seltzer Beach Stage
Tickets $20 DOS $25
Doors 6:00 Show at 7:00ish…
Ages 21UP or with Parent
http://www.atlasroadcrew.com/band
South Carolina rock n' roll band, Atlas Road Crew, revives the genre with shots of southern soul accents. Formed in fall of 2011, A.R.C. is rapidly building one of the most loyal fan bases on the East Coast, packing venues to capacity from Florida to New York City, and expanding quickly to major US cities in between.
The overwhelming positive response to the band's first album "Halfway to Hopkins" produced by Grammy Award winning producer Rick Beato and released in Feb 2016, quickly let the band to becoming one of the Southeast's "must see" live acts. "Halfway to Hopkins" is a sonic blast from start to finish; a record infused with swampy southern accents to fresh contemporary tunes, while managing to capture the band's blistering live show prowess on tape. The title refers to a small community outside Columbia where the band lived for several years after graduating from the nearby University of South Carolina.
Riding the momentum of "Halfway to Hopkins," Atlas Road Crew's constant touring led them to a six week European tour in early 2016 followed by a near non-stop aggressive US club and festival run. One Australian blog, 100 Percent Rock, leaves no uncertainty in their recent review of the band's direction saying,"This is EXACTLY the sort of music we should be listening to right now: bands taking old favourites and adding new directions, writing great songs, delivering ace performances. This is the good stuff."
After wrapping up another season of writing and recording, the boys are set to release their sophomore album in September 2018. The album, titled "Chasing Fire," highlights the band's growth as songwriters and performers. Nine of the new original tracks feature Charleston, SC producer Wolfgang Zimmerman (wunderkind of the likes of Band of Horses, Susto and Jump Little Children). This new effort highlights the band's growth as songwriters and performers which organically moves the needle away from their "southern rock" label. This departure song-wise puts them squarely in the musical realm of band's such as Kings of Leon and Moon Taxi, with the live show to back that bold claim up.
Taylor Nicholson, lead vocalist and guitarist, sheds light from the inside of this new effort. He says, "The new record will be a pleasant surprise to many of our listeners. While we are slightly moving away from the southern sounds heard in 'Halfway to Hopkins,' we are pleased with the vibe and direction of our new soul-filled tunes; they're more relatable."