Event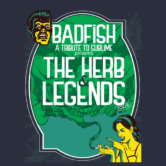 Badfish "A Tribute To Sublime" W/Sun Dried Vibes
Venue:

Monday Night

Doors:

9PM – 01:30 am
Tickets are $15 Available at the door…Doors 9PM Show at 10PM
This is an 18plus show….Under 21 will be a $3 surcharge at the door…
A Music Farm Production
Badfish, A Tribute to Sublime
The phenomenon known as Sublime, arguably the most energetic, original and uniquely eclectic band to emerge from any scene, anywhere, ended with the untimely death of lead singer, guitarist
and songwriter Brad Nowell in May of 1996. But encompassing the sense of place and purpose long associated with Sublime's music, Badfish, a Tribute to Sublime continues to channel the
spirit of Sublime with a fury not felt for some time. What separates Badfish from other tribute bands is that they have replicated Sublime's essence, developing a scene and dedicated following most commonly reserved for label-driven, mainstream acts. Badfish make their mark on the audience by playing with the spirit of Sublime. They perform not as Sublime would have,
or did, but as Badfish does.

Sun Dried Vibes
Sun-Dried Vibes is bringing a fresh, new twist to the reggae/rock genre with their infectious, blue-eyed sound combined with a postive and organic lyrical style. Their sound is described as unique, tight & original. The ensemble joined forces in July of 2010 and have been taking the Southeast by storm with their debut album, "Give Thanks." Recently named South Carolina's 2012 Rock Band of the Year by the SC Music Awards & Charlotte's Best Local Band 2012 by the Readers of Creative Loafing, these rude boys have brought a new vibe to the Southeast, opening for major acts of all genres including The Dirty Heads, 311, Slightly Stoopid, Ballyhoo, The Movement, AWOL Nation, Neon Trees, The Nappy Roots, 3 Legged Fox and many more. An award winning band with a new sound and killer stage presence, SDV looks to release their 2nd full-length album in January 2013 and establish their first national tour after pounding the Southeast for two years.