Event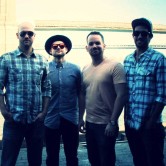 The Barnstorm
Venue:

Saturday Night

Doors:

9PM

Tickets Available at Door
Tickets are $8 at the door (Doors 9PM)
http://thebarnstorm.com
Many years ago, in the summer of 2011, four gents came together with a plan. Sure, they had played gigs together before. In fact, they've played HUNDREDS of gigs together before. But this was going to be different. This was going to be the formation of something new. The plan was simple: rent an RV, drive the RV, play a gig, drive the RV some more, play another gig, etc.
So in the Fall of 2011, they rented a 36' RV (called "The Fiesta") and drove nearly 4,000 miles in 8 days, playing gigs in cities along the way. This year, they're doing it again: Barnstorm 2.0.
The Barnstorm is more of an event than a band. Think of the state fair on the road. A traveling circus with more beards and fewer midgets.
Check back soon for more details on this event. It'll take place in November and will be circling the South at a city near you.
The Barnstorm is comprised of Hunter Cain, J.R. Gudger, Cameron Mitchell, and Brooks Wood.