Event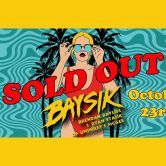 BAYSIK – Brendan Bayliss & Ryan Stasik of Umphrey's McGee On The Bud Light Seltzer Beach Stage
Venue:

Friday Night

Doors:

6PM – 9PM
Tickets are Sold Out…(Doors 6PM Show 7:00)
This Show will take place outdoors on our Beach Stage.
Must have a mask in your possession to enter.
What do you get when you combine Brendan Bayliss, Ryan Stasik, and a beach? Find out on Friday October 23rd, as this dynamic duo takes the beach stage at the Windjammer in Isle of Palms for the 2nd iteration of BAYSIK. Wiggle you toes and dance in the sand as Brendan & Ryan treat you to a night of songs you know and love.
A MESSAGE FROM BAYSKI:

After a couple of rescheduled dates, Brendan Bayliss and Ryan Stasik are finally bringing Baysik back to the Windjammer. We have put a great deal of effort into producing safe events during these surreal times. For this show to be a success, and for us to continue to produce shows in this new-normal, we need the cooperation of every person in attendance. That said, every attendee for the Baysik show on Friday, October 23 must have a mask on at ALL times when at the venue. When smoking, eating, and/or drinking, you can pull the mask down to your chin, but please bring it back on when not consuming. We will have venue staff there to remind you in the event you forget. If you continually neglect to adhere to this rule, you'll be asked to leave the venue. 
We appreciate your cooperation. We look forward to seeing you Friday, October 23 for some fun on the beach.
If you can't abide by the above please email windjammer@comcast.net and ask for a REFUND.
THANKS