Event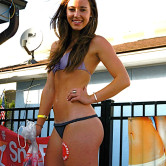 Budweiser Bikini Bash 2016 "Begins"
Venue:

Every Sunday Afternoon

Doors:

5PM – 9PM

Tickets Available at Door
The First round of our Budweiser Bikini Bash "2016"
The Budweiser Bikini Bash is a long-standing tradition drawing locals and visitors from all over the Charleston area…
For more than 25 years, the Windjammer Budweiser Bikini Bash has showcased some of "Charleston's finest bikini-clad ladies". If you're at least 18 years of age, you can participate.
The 2015 Budweiser Bikini Bash Sponsored by:
Every Sunday Afternoon beginning May 24th! Finals held August 9th.
This years Bash will be hosted by The Windjammer's staff of Carrie and Nikki!!

$500 Weekly Prize to the Winner
$2500 To the Winner of the Finals
$500 To the Runner up
Check out the Bikini Bash Photo Galleries Here