Event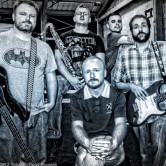 Blackbeards Truck
Venue:

Friday Night

Doors:

9PM – 01:30 am

Tickets Available at Door
Tickets are $6 at the door. (Doors 9PM)
After the recording of their latest album (B.F.L.—released w/ Equinox Empires Records), Blackbeard's Truck has been hard at work building a fan base across North Carolina, South Carolina, and Georgia. With a sound that mixes ingredients from classic rock, modern rock, blues and jazz, the band has created a bold flavor that audiences are eating up everywhere.
http://www.blackbeardstruck.com
A typical show for Blackbeard's Truck involves a variety of musical components sure to entice every member of the audience. The band has built a solid repertoire of popular classic rock songs along with a few country sing-a-longs that are guaranteed to please any crowd. In addition to the covers, the band also mixes in their original music to provide a vast span of music old and new. Shows usually last between three and four hours, and with a knack for tuning into crowd responses; Blackbeard's Truck will keep the audience dancing through the last song.
When Blackbeard's Truck is not busy working on new music, opening shows for nationally recognized bands, or headlining festivities and charity events, the band can be found providing life to various bars, clubs, and parties. The band has experienced a large increase in demand from college fraternities and sororities, along with other student organizations. This has provided exposure to many different groups of people, many of which have become faithful followers that travel to experience the different shows across the region.
Throughout the group's many musical adventures, they have produced two albums of original Music. The first album, Fat Steve and Toadfrog Daddy (1999), is a raw reflection of the groups beginnings and an introduction to recording. The second album, B.F.L. (2002), reflects a more polished sound along with matured lyrics and music. Today, the band's live sound is the best its ever been; tight, clean, and innovative.