Event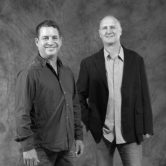 "Bobby Houck and Hank Futch of the Blue Dogs & Friends"
Venue:

Thursday Night

Doors:

9PM – 1AM
Tickets are $10 Advance $15 the Day of the Show…Door 9PM Show at 10PM
Friends: Greg Walker/drums, Parker Dewitt/drums, Charlie Thompson/pedal steel, Micah Nichols/guitar
Bobby Houck grew up in Florence SC and is the lead singer and songwriter of the Charleston-based band the Blue Dogs, which he founded in 1987 and which, along with his childhood buddy and business partner Hank Futch, he continues to front on acoustic guitar and vocals.
After being a part-time band for the first nine years–putting out three recordings during that time, a period of time longer than most bands are together–the band went full-time in 1996, and for the next 10 years toured relentlessly and during that period produced two live DVDs and 6 audio recordings–three live recordings and three studio cd's that represent their most productive era as a band…the self-titled "Blue Dogs," "Letters From Round O", and "Halos and Goodbyes."
Since 2006, the band has continued to perform live, and on their 25th anniversary in 2013 started an annual homecoming show at the Charleston Music Hall that to date has raised over $200,000 for MUSC's children's hospital and pediatric cancer. Bobby says that the band will have a new batch of original tunes ready for their 30th anniversary in 2018.
For this show, Bobby will have an all-star band of local Charleston musicians including former Crowfield guitarist Micah Nichols, pedal steel legend Charlie Thompson, original Blue Dogs drummer Greg Walker, current Dogs drummer Parker DeWitt, and others. Performing Blue Dogs originals as well as a diverse selection of covers.