Event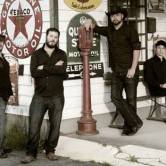 Brady Smith Band W/Tristina Miller
Venue:

Friday Night

Doors:

9PM

Tickets Available at Door
Tickets are $5 at the door..(Doors 9PM)
Brady Smith grew up in upstate New York singing Christian Bluegrass music with his family up and down the east coast. While there were not many country music stations in New York, he was played a Randy Travis cassette at a young age. His instant love and fascination with it led him to begin singing and writing country music at the age of 13.
http://www.reverbnation.com/bradysmith
With his first full country album release people will hear real country music covering a variety of emotions. From the up tempo "Summer Lover" to the soulful "Why Do We", you can feel his passion and emotion in each note. You will also get a full serving of real, kick you in the teeth, authentic sounding country music with songs like "Worth a Shot" and "Here's to Me".
Now living in Charleston, South Carolina, achieving a life long dream of livng near the ocean, Brady's love of the lowcountry is reflected in several of his songs. He is a unique dichotomy of authentic country music and music that appeals to lovers of all genres.