Event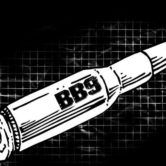 Bullets Benign
Venue:

Friday

Doors:

9PM – 01:30 am

Tickets Available at Door
Tickets are $5 at the door…doors 9PM Show at 10ish
The Band Bullets Benign is an Original Southern, Rock and Soul Band, Based in Charleston, SC. Bullets Benign formed in the Spring of 2012 with Guitarist Billy Waterhouse and Percussionist Keanan Nelson as an original acoustic duo. Waterhouses' creative lyrics melodic riffs and hypnotic voice, commands the attention of the listener. Once drawn in, Nelson's savory vocals, percussions pops, slaps and rolls put you in the groove.
https://www.facebook.com/BulletsB9/
Shortly after the Spring of 2012 the original songwriting duo began to pen songs together. They quickly realized, they needed a larger band to compliment their large sound in their combined works. In a short amount of time thereafter, the duo acquired the membership of Bassist Mike Lewis, Lead Guitarist Eddie Sigman and Drummer Martin "Marty" Baker.
Lead Guitarist Sigman's approach to crafting songs and his ability to arrange, propel the arrangements in a more linear, progressive direction. Wheather you like it edgy or sweet, Sigmans' got you covered. When you say groovy BB'9 says 'Basist' Mike lewis. Not only do you see him at 6'7″ but you feel Bass Man lewis as he holds up the bottom end of the bands arrangements. Lewiss' bass groves makes you want to dance.
Finally, holding it all together on Drums you can find Mr. Martin "Marty" Baker. When Baker is behind the kit, you can't help but nod your head and tap your feet. Got Rhythm? We do.