Event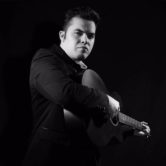 Cash Unchained: A Tribute to Johnny Cash
Venue:

Friday Night

Doors:

9PM – 01:30 am

Tickets Available at Door
Tickets are $5 at the door…Doors 9PM Show at 10PM
Take a journey back in time to the life and music of "The Man in Black" performed by Cash Unchained featuring James 3. The band has been traveling all over US bringing the sights and sounds of the legendary Johnny Cash.
https://cashunchained.com/home
Johnny Cash may not have been the greatest singer or musical technician, but his sound was unforgettable. Steady like a train, sharp like a razor, with the perfect blend of country, rock 'n' roll, and folk music, Cash paved the way for artists of all genres for years to come. With out Johnny Cash, we wouldn't have some of the music we've all enjoyed over the past 6 decades. Performed by some of the finest musicians in the state of Virginia, 18 year old James 3 captures Cash's trademark baritone voice, while his band delivers the infectious, driving rhythm of the Tennessee Three.
They will entertain you with a some of Cash's greatest hits like "Folsom Prison Blues", "Ring of Fire", and "Walk the Line", plus songs from the end of Cash's career, including his final hit "Hurt" written by Trent Reznor (Nine Inch Nails).
In September 2016 Cash Unchained went into the legendary Sun Records in Memphis, Tennessee, and recorded their first CD that will be available at ALL shows on the tour!