Event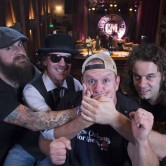 Cowboy Mouth W/The Travelin' Kine
Tickets are $20 (door 8:30 PM Show at 9PM CBM 10:15PM)
The term 'Cowboy Mouth' has been used in the poetry of Shakespeare and Bob Dylan as well as a play by Patti Smith and Sam Shepard. Usually meaning One with a loud and raucous voice, it describes the band well. With over 2500 concerts under their belt and many years of reviews lauding their live show,there is still one quote which best captures their show….. "…on a bad night they'll tear the roof off the joint and on a good night, they'll save your soul." Cake Magazine
http://www.cowboymouth.com/
http://www.thetravelinkine.com
2014 & 2015 City Paper Americana Artist of the Year winners The Travelin' Kine are on the move. In two short years this hardworking local outfit has logged serious miles honing their sound: a mix of potent songwriting and fiery country chops, doused with a few shots of whiskey. With the help of a seasoned crew of local talent, singer Slaton Glover delivers a musical message of hellfire and heartbreak, leaving it all on the stage at every performance. Releasing their first album in early 2016, the Kine's first single "Change in the Wind" was voted 2015 CPMA Song of the Year. The Travelin' Kine amounts to some of the best lowcountry music in years. Catch them if you can!