Event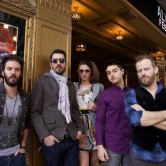 Connor Christian & Southern Gothic
Venue:

Saturday Night

Doors:

9PM
Tickets are $8 and available at the door…(Doors 9PM)
"Every night I have a new hometown," sings Connor Christian in the title track of the latest release from Connor Christian & Southern Gothic, New Hometown.
http://www.connorchristian.com/home.html
Those words could be the mantra of many touring bands, whose lives become a blur of highways, hotel rooms, stages and crowds. But in the case of Connor Christian & Southern Gothic – "CCSG" as their fans affectionately know them – those words are more than just a metaphorical description of the troubadour lifestyle of a band on the road. They are a nod to the beginnings of a band – not just its members, who come from places as far and wide as Los Angeles to Russia – but also its music, an amalgamation of roots-rock, country and Americana.
"We don't like to box ourselves in," says Christian. "But we hear from fans all the time that our blend of sounds and influences is one of the things they love. When we get on a stage, it just clicks. It's seamless. And based on the way people are reacting, it must be working." It's working indeed. From the fiddle-driven and harmony-rich opener "Sheets Down", to the country-ballad swoon of "Only Need You", "(She's) My Salvation" or "Back in Dixie", to the unapologetic, raunchy swagger of "When I'm Gone", or the instrumental twin-fiddle blast of the aptly-named "Fiddler", New Hometown is an 18 song joyride. Produced by Christian and John Briglevich (Goo Goo Dolls, Edwin McCain), this is roots music crafted by a restlessness of spirit, born from the travels of a true troubadour.
Connor Christian was born in Los Angeles, but before he was a teenager, had lived in South Korea, Indonesia and Belgium. At the age of 14, he left home with a guitar and a backpack, and continued his travel and musical growth in Pennsylvania, Florida, Georgia, South America and even Africa. By the time he settled in Atlanta, GA in 1996, his life and his music were steeped in culture and influence from his well-traveled youth, and a tradition of diversity. And it was in that tradition that he began crafting what would become CCSG.
Connor met drummer Shawn Thacker in 2004. Thacker, a Rome, GA native, was raised as many rural Southerners were – surrounded by guitars, fiddles, mandolins and banjos. And, of course, KISS. "Hearing 'Detroit Rock City' by the flashing lights of my uncle's 8-track player was a life-changer," says Thacker. Suburban Washington, DC native and bass player Joe Abramson, who cut his teeth on '60s British blues and "pretty much anything with loud guitars," rounded out what initially began as a trio, the first incarnation of what would later become CCSG.
Continuing in the spirit of New Hometown, next came classically trained violinist (turned fiddler) Elena Martin, born and raised deep in Soviet Siberia. Aside from her fiddle work, Martin is beloved among fans for her huge smile and infectious on-stage energy. Multi-instrumentalist and Syracuse, NY native Jeff Spirko completed the lineup, joining in 2010. Spirko moves with ease between guitar, mandolin, banjo, fiddle and piano, but he's not alone in his multi-instrumental talent. Christian, in addition to his vocal duties, plays guitar, piano and mandolin, and Martin plays piano and mandolin when not blistering the neck of her fiddle. The band's ability to move between so many instruments adds not only a great dynamic to the music, but a level of excitement to their live show as well.
"Live, there are definitely some moments that might look like a fire drill. We have a song or two where some of us change instruments mid-song, so to the uninitiated, it looks chaotic. But it adds to the excitement. And it gives us so much flexibility on stage to do different things, and change the texture of the show from song to song."
CCSG has spent the better part of the past three years on the road. When not headlining, they've shared stages with such artists as Zac Brown Band, Tim McGraw, Willie Nelson, Corey Smith, Big & Rich, Uncle Kracker, Gloriana, STYX, ZZ Top, Heart, Foreigner, and more. The diverse nature of the artists with whom they've toured again reflects the diversity of the band's sound. "It works," says Christian in regard to the varying nature of the audiences. "We've played to country crowds, rock crowds, young crowds, old crowds. We've played to jam band audiences and we've played bluegrass festivals. The response with all of them has been fantastic."
Fantastic enough for Billboard Magazine to notice. CCSG was named "Artist on the Verge" in Billboard's Best Bets of 2012 issue. "It's pretty crazy," says Christian of the accolade. "I hope it's a harbinger of things to come."
And if the momentum gained in the past year is any indication, CCSG indeed has big things to come. The release of New Hometown on February 12 will be preceeded by the release of the video for "Sheets Down", directed by Mil Cannon (Usher, Pink, John Mayer, Collective Soul), and supported by the band's continued "never-stop" approach to touring.
"We've traveled the world," says Christian. "We find the people, the stories – there's always something familiar, no matter where we go. So when we get to play songs that are shaped by those people and those places, somehow it always feels like we are home, no matter where we are."