Event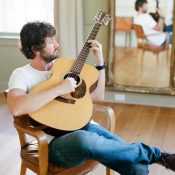 Chris Dodson and Mookie on the inside stage
Venue:

Wednesday

Doors:

9:00

Tickets Available at Door
Ticket are $5 or free with the purchase of a Keys and co. ticket
Doors 9:00 Show at 10:00ish…
Ages 21UP or with Parent
https://chrisdodsonmusic.com/about-chris-dodson-musician/
Upon entering his teen years and seeking a new interest, Chris Dodson began a hobby that would lead to a professional career at the young age of 13. Dodson joined his first band as a lead and rhythm guitar player during his first year of high school. A year later, Dodson displayed his true vocal ability during his school's annual talent show entertaining the crowd by playing and singing a top hit at the time- "The Freshman".
Dodson débuted his very first solo acoustic performance in 1998, with the complete version of "American Pie" during the same talent show. In 2000, Dodson set off for 4 years of higher education at Winthrop University. During this time he entertained with various artists in and around the greater Winthrop area until 2006 when he relocated to Charleston, South Carolina.
Heavily influenced at the time by Jazz, R&B and improvisational music, he landed a full time gig as the singer and lead guitarist for the popular funk group, Unkle Funkle. In 2009, Dodson formed Charleston's premium Hip-hop party group – High Society with good friends Alex Kellner, Patrick Walton and Daniel Stern. The same year, Dodson, Kellner and branded artist and drummer Markie Morant established a Top 40/Pop/R&B group dubbed Return of the MAC.
Chris has been writing and recording original music since 2002. He is an aspiring songwriter and would prefer to write songs for other artists and musicians as a non-performer and just perform as an entertainer.