Event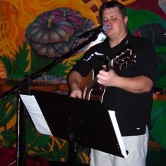 Craig Lathey "Our LandShark Acoustic Deck Series Every Wednesday"
Free on the back Deck Every Wednesday starts around 7PM 16oz LandShark Draft $2.50
Craig Lathey's strummy set was certainly not full of guitar fireworks or wild stage antics, but his voice was strong and his tunes buzzed at a welcoming pace. The hoss-sized Mt. Pleasant-based singer/guitarist recently relocated to Charleston from West Virginia. Since last winter, he's maintained a weekly schedule of gigs in Mt. Pleasant and downtown, entertaining Shem Creek bargoers and strumming for tourists and locals on East Bay Street with an impressively vast catalog of rock, country, and blues classics. Occasionally, he even slips a honky-tonk styled original tune in the mix.