Event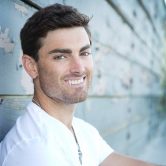 Cody Webb W/ Warreck McZeke
***Tickets are $8 advance $10 Day of Show.. Doors 9PM Show is 10ish
Ages 21 Up or with Parent
Singer, songwriter, and musician Cody Webb has played hundreds of dates across the country, earning thousands of fans with his keen vocals and distinctive guitar skills. With his single "She's Carolina," Cody was able to pull on the heartstrings of his native South Carolinians and draw them in like never before. After a lot of hard work and support from some of the best fans out there, Cody received over one million views on his Facebook "She's Carolina" lyric video, as well as 100k+ streams and growing.
Having grown up in the small town of Ridge Spring, SC, Cody's childhood consisted of hunting, fishing, sports, and music. His mother was the music minister at his hometown church and his father was a singer-songwriter and musician, so it came as no surprise when Cody chose to follow in their footsteps and take his own path into the music world. He began playing guitar at a young age, with musical roots that were planted in southern rock. "I was influenced by Lynryd Skynyrd, Allman Brothers, Pink Floyd, and many other classic rock bands." His first big gig was at the South Carolina Poultry Festival, playing alongside his father's band. With shaking hands and a mere twelve years of age, Cody had his spotlight moment playing the intro to "The Ballad of Curtis Lowe." It was that moment that Cody knew he wanted to be a guitar player, setting his eye on headlining the festival himself one day.
Warrick McZeke
If you were able to take in CCMF 2017, you may recognize his face, as he was welcomed on stage by his college roommate at Clemson University and Country Music Superstar, Lee Brice. Warrick McZeke would go on to surprise his then girlfriend in front of 33K festival goers in asking for her hand in marriage. Instead of the typical "Yes! I will Marry You!", she belted out "I Will Absolutely Marry You!" Warrick would later turn those words into what is set to be his debut single "Miss Absolutely" due out in late Spring. The song was written after his fiancée sent him the entry link for the 2017 Nash Next Competition. He would write the lyrics the night before the submission deadline. Little did he know, this competition would re-ignite his dreams of becoming a Country Music artist.
"This past year has been nothing but a blessing. I caught wind of Lee's future performance for CCMF 2017 two years prior and said to a buddy of mine, that if I was still dating Josie by the time CCMF rolled around, I was gonna ask her to marry me. Unsure of what Lee would say to my request, I am forever grateful for him allowing me to live out my dream – that's asking Josie to marry me, and also being able to sing in front of thousands of people!"
A native of Loris, South Carolina, now residing in Charleston, South Carolina, Warrick is looking to gain breakthrough success with the release of "Miss Absolutely" and follow up EP dropping on March 1, 2019.