Event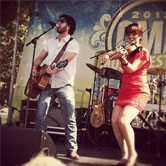 Connor Christian & Southern Gothic W/ Matt Chase
Venue:

Saturday Night

Doors:

09:00 pm

Tickets Available at Door
Tickets are $10 (Doors: 9:00).
Equal parts modern troubadour, back road poet and outlaw rocker, Connor Christian & Southern Gothic creates gritty, soulful songs of experience revealing solace in hardship, hope in destitution, and a dustbowl sensibility. Their powerful music draws on influences ranging from Ryan Adams, G. Love, and Counting Crows to The Band and Tumbleweed Connection-era Elton John, and makes a heartfelt statement found at the crossroads of Roots Rock and Americana.
Connor left home at the age of 14 and forged a path of personal and musical discovery that took him to Indonesia, South Korea, France, Belgium, Singapore, and beyond. It was in these places that Connor cultivated his deeply felt views on American life and found strength in the perspective he could deliver through song. "I try to be realistic…" says Connor. "But, we live in a time where it is crucial to pay attention to what's going on around us… if I can get people to stop and think about it for a minute, well that's a pretty good start."
In 2007, CCSG's song '3 Times' was featured in "the most award winning independent film of 2007," 'Last Stop for Paul.'
Audiences from Denver to New York City have embraced CCSG's whiskey-soaked vocals and give-'em-hell live show. CCSG averages 250 shows per year and has sold thousands of CDs and downloads.
CCSG's latest, "New Hometown (Part I) was released in early 2011, with a follow-up, "New Hometown (Part II)", scheduled for release in the Fall.
http://www.connorchristian.com/
http://www.reverbnation.com/matthoskins