Event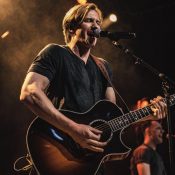 Cooper Alan on the Inside Stage
Tickets $15 DOS $20
Doors 9:00 Show at 10:00ish…
Ages 21UP or with Parent
https://www.cooperalanmusic.com
My name is Cooper Alan. I've been on this planet 25 years; born and bred in the beautiful state of North Carolina…Go Heels! In addition to 4 years at UNC Chapel Hill, I also played every bar, college campus, and Honky Tonk that would let my band and me play. Through this, we became the "go to" band for great music and a high energy, all night throw down performance.
After graduation, I packed up my guitar and moved to Nashville as fast as I could, where I had the incredible luck of meeting hit songwriter/producer Victoria Shaw who signed me within weeks to a publishing deal. I'm still pinching myself!
Most nights you can find me playing in and around Nashville (click on tour dates above). Most days, I have the great privilege of writing songs with incredible co-writers like Rivers Rutherford, Gary Burr, Seth Mosley, Matt Nolen, Skip Black, Leslie Satcher, Will Robinson, Kent Blazy, James Dean Hicks, Lee Thomas Miller, and of course, Victoria Shaw.
My newest single, "Colt 45 (Country Remix)", is OUT NOW and available on all streaming platforms! Make sure to save it to your playlists, share it with your friends, and follow my social media accounts to stay up to date on all of the exciting music news!