Event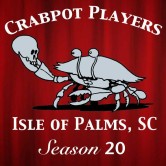 The Crabpot Players Fundraiser: Pennies from Heaven: a Musical Revue
Venue:

Thursday Night

Doors:

6 PM
Join The Crabpot Players for an evening of jazz and a musical revue from the 20's and 30's accompanied by the Joe Clarke Quartet of the Joe Clarke Big Band. Doors open at 6:00 PM and live entertainment begins at 7:00.
There will be a cash bar, all you can eat oysters & BBQ, a silent auction, and more!
Proceeds benefit the Crabpot Players Capital Projects Fund.
Tickets now on sale on our website or by calling the box office at 888-303-0763.
For general information or donation inquiries, contact Daniel Prentice at daniel@crabpotplayers.com or 888-303-0763 ext. 802.

http://www.crabpotplayers.com
https://www.facebook.com/events/368095236669417/?ref_dashboard_filter=upcoming&source=1
http://www.showclix.com/event/crabpotplayers2014