Event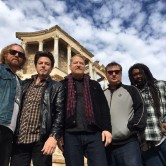 Cracker W/ The Whiskey Gentry & John Totaro
Venue:

Friday Night

Doors:

9PM – 01:30 am

Tickets Available at Door
Tickets are $20 and available at the door…Doors 9PM Opener 10PM Cracker 11:15
Cracker, the group that veritably introduced brash irreverence and irony into alt-rock, are back and in top form on their 429 Records debut, Sunrise In The Land Of Milk And Honey.
https://www.crackersoul.com
https://www.thewhiskeygentry.com


This rich new trove of sharp-witted songs showcases a bristling, late 70's – early 80's power pop punk aesthetic which hits as hard as it did at the band's formation 17 years ago. Eight albums (one platinum and three gold) and a barrel full of anthemic hit songs later, Cracker endures, using their ability to weave decades of influences into an album that is seamlessly riveting.
In Sunrise…, long-time partners David Lowery and Johnny Hickman, 12-year Cracker drummer Frank Funaro and bassist Sal Maida (since 2006), train a watchful eye on the current socio-musical landscape as they weave an eerie yet strangely soothing story of escapism, apocalypse and renewal. Friends John Doe, Patterson Hood and Adam Duritz (whose mega-band Counting Crows was once produced by Lowery) make spirited guest appearances. The recording was helmed by Athens, GA-based producer/engineer David Barbe, a longtime friend of Lowery who has manned consoles for the likes of Son Volt and the alt-Southern rock band Drive-By Truckers.
The explosive title track that wraps the 11-song collection is thematic, belying its seemingly cheery title to take a tough-edged look at the precarious times we live in. Ever the observant storyteller, Lowery calls it like he sees it: the affluence and wealth America seemed to have these past decades was built on a mirage. The sun shines a harsh light on a landscape of decay. The golden age, the promised land, the land of milk and honey, never materialized.
For Sunrise…, Lowery and Hickman took a new approach to their creative process, joining Funaro and Maida to write most songs from scratch. (Whereas on previous albums, Lowery and Hickman would bring near-finished tracks to the rest of the band.) Cracker were self-disciplined— writing together one week every two months, between tours, for a year. The goal was to work on two songs per day—and somehow, the combined force of their distinctive and mutual influences gave rise to a crackling, raw musical factory of sorts.
Says Lowery, "The coolest part of making the new album was the self-imposed time structure we created, the fact that we all gathered to write these songs like it was an actual job. At one point, when we had four songs that needed lyrics, Johnny and I went to the legendary punk studio, The Blasting Room, in Ft. Collins CO, and rented the B room, where we stayed until we had the right words. It was refreshing to do it this way, to challenge ourselves to write with the clock ticking. It was like starting a band and committing to a rehearsal time. We weren't kicking back on an island in the Caribbean, waiting for the muse to hit us. We got down to work, found the punk and glam rock in our blood and woke up to Sunrise In The Land Of Milk And Honey."
Considering drummer Funaro's background playing with The Dictators and Joey Ramone, and bassist Maida's background with Roxy Music and Sparks, it was inevitable that the new album would acquire its own unique edge.
"It was a little different involving Frank and Sal's musical tastes and their background from the get-go," says Lowery, "but this led us to realize the common element we all share. We all came of age playing power pop-punk and that early new wave stuff. Once we got on this path, it started surfacing in so many songs that it became a thematic element for the whole project. We all started playing music in that era so we weren't surprised when those sounds started rising up. Sunrise…isn't the 'Cracker punk record' but it's definitely got that time stamp, the '78-'83 flavors, all over it. The other thing we did differently was actually playing all the songs in concert before ever committing them to digital. Most bands do the album first, then take the tunes on the road."
"In a lot of ways, the methodology behind this album brought us all back to when we all started our early bands, when the opportunity to write and record albums came after playing tons of live shows," adds the Richmond, VA-based singer. "I think one of the reasons Cracker has survived this long when so many of the bands that started in the early 90s faded is that we've always made the record we want to hear right now. We've always had the belief and confidence that others will feel like we do. Eclecticism was the norm for bands in the 60's, 70's and into the 80's, and that freedom leads to great bursts of creativity and the potential to make classic albums that stand the test of time."
The first album track explodes with a slicing guitar riff from Hickman. "Yalla Yalla" is a colorful rumination on an Arabic phrase meaning, "Let's go." Lowery heard U.S. soldiers greeting each other this way at the Atlanta airport. "Like rock musicians, soldiers in every era have their own language of bravado and machismo," he says. The band dives deep into the punk on the frenetic "Show Me How This Thing Works," a song inspired by Lowery helping a friend with a quantitative finance problem; the singer is proud that he was once a budding mathematician.
"Turn On Tune In Drop Out With Me" is a lilting pop/rock reminder that in these precarious times, many may feel like returning to the bold escapism of the 60s, of the hippies who left the rat race behind to "drop out" into spiritual refuge. The blistering "Hand Me My Inhaler" finds its hapless protagonist blustering at an ex-girlfriend's door, "gonna reform the band without you." Hickman says of the blues-funk "I Could Be Wrong, I Could Be Right," "When I hand David a melody like this one, I have no idea where he's going to take it, and I love that. Suddenly the devil and members of the Lewis and Clark expedition were caught up together in some sort of a psychedelic love conspiracy."
"Time Machine," a black-booted, Celtic-riffed, early-punk kick to the jaw of any pretenders, was inspired by a conversation Hickman had with Black Flag and Descendants drummer Bill Stevenson (who co-founded The Blasting Room studios). Hickman and Stevenson both realized that they had been caught up in the same early 80s punk rock riot at a legendary Dead Kennedys show. It's a message to today's punks that they perhaps couldn't have survived what the previous generation endured. "I took a couple of billy club hits that night," Hickman says, "I got off easy."
Punk-and-now-Americana legend John Doe harmonizes on the throbbing, surf guitar driven, "We All Shine a Light." This swarming, Buzzcocks-like rocker is a comment on multicuturalism and tolerance, by way of an ode to Pakistan's cricket team, the Peshawar Panthers. Patterson Hood of the Drive-By Truckers duets with Lowery on the swampy, folk-Americana of "Friends," a drunken tale of dysfunctional but loving friendship. One of the album's more poignant moments arrives when Adam Duritz guests, singing alongside Lowery on the romantically selfless "Darling One."
The stomping, harmonica-laden "Hey Brett, You Know What Time It Is" came from a sardonic line uttered to Lowery by Built To Spill's Brett Netson, during an exchange of ever-escalating shockeries. Lowery recalls, "He walked into our dressing room and joked, 'Will we know when it's time to start dragging rich people from their cars and killin' em'?' For Frank and me, it grew into a text message exchange and later a song."
A brief rundown of Cracker's history: Lowery, in the mid-80s, in Santa Cruz, California, formed Camper Van Beethoven, and their "Take the Skinheads Bowling" became an instant college radio staple. When CVB disbanded on tour in Sweden, following their second major label release, Lowery formed Cracker with his longtime friend Johnny Hickman. (The pair had met on the local music scene as teenagers in Redlands, CA.) Cracker's emergent sound had less in common with Camper's exotic excursions and was more in synch with the Kinks and Southern roots music. They released their self-titled debut on Virgin, and following the #1 Modern Rock hit "Teen Angst (What The World Needs Now)," the band became a minor commercial sensation (complete with then-significant MTV exposure). The platinum-selling Kerosene Hat contained the enormous, era-defining hit single "Low," as well as "Get Off This," and "Eurotrash Girl." When the dust settled, Cracker found themselves with an ever-growing, devoted following both in the U.S. (where fans refer to themselves as Crumbs) and throughout Europe. Today the band stays well connected to yet another generation of fans via internet, many of whom were kids when these alt-rock godfathers were first ruling rock radio.