Event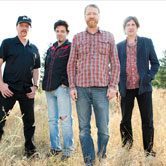 CRACKER W/ Radiolucent
Venue:

Friday Night

Doors:

09:00 pm

Tickets Available at Door
Tickets are $15. Doors 9PM.
(Show starts at 10:00PM)
CRACKER IS BACK ON 429 RECORDS DEBUT!
"SUNRISE IN THE LAND OF MILK & HONEY" IN STORES NOW
Alt-rock icons Cracker have signed with 429 Records and are preparing to unleash a collection of new songs, SUNRISE IN THE LAND OF MILK AND HONEY. Long-time musical co-horts David Lowery and Johnny Hickman have teamed up again with drummer Frank Funaro and bassist Sal Maida and along with stellar producer David Barbe (Drive By Truckers), have created a uniquely eclectic trove of new tunes. Well-worn words used to describe their sound—brash, irreverent, sharp-witted, anthemic and riveting—all descriptives are in full-effect on the new project that bursts with their trademark rock, punk, glam, surf and country aesthetic. Friends John Doe, Patterson Hood and Adam Duritz also make spirited guest turns on SUNRISE…Their 429 Records debut is in-stores on May 5 and the first single to radio is "Turn On, Tune In, Drop Out With Me" (add date April 7).
https://www.facebook.com/radiolucent