Event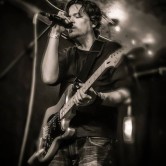 BYOG W/Dave Britt
Venue:

Thursday Night

Tickets Available at Door
Tickets are $5 at the door..(Doors 9PM)
BYOG is a 5-piece jam driven vehicle that currently resides in Charleston, SC. Since their reformation in the Spring of 2013, BYOG has hit the road regionally, covering most of the South East in their short time together as a band. Their original material is crafted with instinctive groove, while they tend to stick close to their roots, covering artists like, The Band, The Allman Brothers Band, and The Grateful Dead. BYOG is a must see live act, frequenting The Charleston Pour House, Visulite Theatre, and playing this year's inaugural Blackstock Music Festival. BYOG is David Buck, Blake Zahnd, JP Treadaway, John Wienand, and Phil Pasquini. Check out www.byogmusic.com for upcoming dates!
Dave Britt is a driven, passionate and charismatic singer-songwriter with a unique approach to his blend of folk, rock and pop. His country and Americana roots blend in with an uplifting modern songwriting sensibility; not unlike artists the likes of Wilco, Bright Eyes or Jason Isbelle, just to name a few.
Following his experience as a member of The Rival Brother, Dave set out to pursue a solo career: His brand new studio album, "10.000 miles" is a slight departure from his previous work, bringing his ideas and songwriting depth to the next level. The album was recorded and produced independently, with the help of Jamie Baresford (on bass) and Steve Sancho (on drums). The new recordings will be released on 1/15/15 – many shows will follow!
Find out more and let the music do the rest of the talking!