Event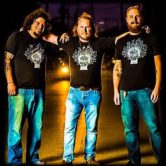 Dave Jordan & the NIA
Venue:

Friday Night

Doors:

9PM – 01:30 pm

Tickets Available at Door
Tickets are $5 at the door…Door 9PM Showtime is 10PM
Dave Jordan is a New Orleans based singer/songwriter/bassist and guitar player.
http://www.davejordanmusic.com
http://facebook.com/davejordanmusicpage
http://twitter.com/davejordan_nia
https://www.youtube.com/channel/UCas5ZWtuf9CX0dtmr6U96Og
http://www.sonicbids.com/band/dave-jordan-the-nia/
Recent Music Reviews
http://liveforlivemusic.com/album-reviews/dave-jordan-the-nia-deliver-on-the-promise-of-no-losers-tonight
http://www.thevinyldistrict.com/neworleans/2016/06/dave-jordan-and-the-nia-bring-no-losers-tonight-to-the-maple-leaf-bar-610/
Over the course of nearly 20 years and 3 bands, he has produced or co-produced 6 albums, played nearly 2000 shows nationwide and performed or recorded with some of the most esteemed musicians in New Orleans and across the country; including recording with Art Neville, Anders Osborne, Joe Krown, Bill Summers and more; and performances with such bands as the Meters, Little Feat, Widespread Panic, Bob Weir's RatDog, Los Lobos and many more. His work as founder and frontman of the long running funk/roots band, Juice, landed the band a Best of the Beat award for "Best Emerging Funk/Soul/R&B Band" and nominations for "Best Roots Rock Band" and "Best Roots Rock Album" for 2000's Anders Osborne produced, All Lit Up. His song "Biggest Little Shrimp In Town"- the title track of an award winning short film- was re-recorded by Art Neville and the Beverly Hills Short Film Festival created an award for Best Song to recognize their collaboration. His most recent work, as a solo artist, has quickly become one of the most talked about roots rock bands in New Orleans and his critically acclaimed solo debut, These Old Boots, was named a Top 10 Local Release of 2010 by the Times Picayune and nola.com.