Event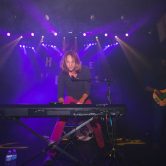 DAVID HIGGINS on the Bud Light Seltzer Beach Stage
Tickets $10
Doors 6:00 Show at 7:00ish…
Ages 21UP or with Parent
If for any reason this show needs to be moved in doors…Only the first 400 tickets will be valid for entry…Out door only tickets will be marked before purchase.
https://www.facebook.com/DavidHigginsBand/
THE DAVID HIGGINS BAND WAS FORMED IN THE SPRING OF 2011 AND HAS EARNED IT'S REPUTATION OF ONE OF THE LOWCOUNTRY'S PREMIERE AND BUSIEST BANDS. WHILE STILL ENJOYING PLAYING EVENTS AND CLUBS, DAVID IS TRANSITIONING HIS EFFORTS TOWARD AN ORIGINAL MUSIC CAREER AS HE RELEASES HIS FIRST EVER EP IN THE LATE FALL, 2013.over the past 4 years of full time performance, David has played over 1,000 shows from New Orleans to New York as he currently resides in Charleston. Greatly influenced by classic rock in his early years, David carries a love for the old rock ballads while merging that feeling with the newer pop synth driven dance tunes. His voice is most often compared to Elton John and David Gray.