Event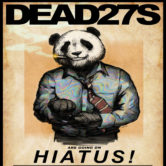 Dead 27s with The Trongone Band
Venue:

Friday Night

Doors:

9PM – 01:30 am
Tickets are $10 Advance $12 DOS…Door 9PM Show at 10PM
TWO NIGHTS AT THE WINDJAMMER 12.29.17 with The Trongone Band 12.30.17 with Travers Brothership We've been on the road, up and down the east coast and throughout the southeast, pretty steadily for the past 3 years. Following our two night stand at The Windjammer, we've decided to go on hiatus…recharge the batteries, catch up with family, relax…in hopes of getting inspired to work on a new album in the future. We'd like to thank everyone for their continued support over the past 5 years by celebrating with two nights of music at The Windjammer on Isle of Palms, SC. Our friends from Richmond, VA, The Trongone Band, will open on 12.29 and our friends, Travers Brothership, from Asheville, NC, will open on 12.30. Stay tuned for more details on the two night stand. It's going to be one big party!
https://www.dead27s.com
https://www.trongoneband.com
On their debut EP, Dead 27s brilliantly infused rock-and-roll and classic soul with both raw energy and refined musicality. Now with their first full-length effort Ghosts Are Calling Out, produced by Ben Ellman (a member of the funk/rock act Galactic) and mixed by Mikael "Count" Eldridge (a producer/engineer whose past work includes releases by Radiohead, the Rolling Stones, and a Grammy Award-winning effort from Mavis Staples), the Charleston-based band expands their sound by pursuing their passion for loose and joyful experimentation.
Working with a treasure trove of obscure and vintage lo-fi gear, Dead 27s have widened their sonic repertoire to offer up an album that's boldly inventive but rooted in pure emotion. The follow-up to 2014's Chase Your Devils Down—an EP praised by the likes of No Depression, who remarked that "you can feel their music in your bones"—Ghosts Are Calling Out builds off its predecessor's earthy sensibility and gritty spirit. But while Dead 27s maintain their soulful melodicism and knack for heavy grooves, the new album finds the band crafting gorgeously warped textures that take their music in a thrilling new direction. "Making this album, we wanted to push ourselves and bring much more attention to detail to the production—and at the same time have some fun with all these weird, distorted sounds and tones that we were coming up with," notes Mullinax.
After releasing Chase Your Devils Down in spring 2014, Dead 27s earned the Charleston City Paper Music Awards' Song of the Year prize two years in a row, ranked in the top 24 of VH1's "Make a Band Famous" competition, and opened for such artists as Earphunk, Galactic, The Revivalists, Marcus King Band, and Tab Benoit. Fast gaining a reputation as an incendiary live act, the band devoted much of 2015 to touring as well as writing and pre-producing material for Ghosts Are Calling Out. With each show serving as a breeding ground for creativity, Dead 27s mine much inspiration from their time on the road. Through that near-constant writing and performing, Dead 27s have vastly strengthened their creative connection and pushed the boundaries of their musicianship. "We've always worked in a way where everyone adds their own flavors to the songs, but this album was much more of a collaborative effort," says Evans. "Each one of us was more heavily engaged in the whole process, and we ended up trying new stuff that we're all really excited about and that goes way beyond just having some good new songs to put out."