Event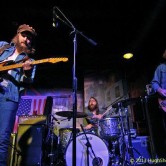 Deadstring Brothers
Venue:

Wednesday Night

Doors:

9PM

Tickets Available at Door
Tickets $5 at the door (Doors 9PM)
It may be a surprise to hear the country rock sounds of Detroit's Deadstring Brothers coming from a city better known for loud rock and roll, but disillusionment can take many channels. Desolation, frustration and regret have always been present where great country music was played, and from its bombed-out inner city to its sterile suburbs, Detroit has its share.Deadstring Brothers began in fal
l 2003. Since then, the band has worked to develop their own take on the American Sound, drawing influences from a variety of sources. Its all in there somehow, declares Kurt, but blues and country music just feel the most natural.
Not unlike Exile-era Stones, Deadstring Brothers deliver a menacing sound that draws equally on the melancholy of country ballads and the abandon of rock and blues. The bands music is deeply rooted in the storytelling and instrumental traditions of Hank Williams, Johnny Cash, and the American Outlaw Movement, but is also informed by the song structure and understated aggression commonly associated with Detroit bands. Their haunting melodies reveal the influence of early 70s rock icons like The Band and Gram Parsons and The Faces. Deadstring Brothers live performances have the energy of guitar rock, but sophisticated arrangements, Hammond Organ and a focus on traditional American music separate them from many of their Detroit contemporaries.
The band has been touring steadily since the 2004 release of their eponymous debut and have shared the stage with acts ranging from Shooter Jennings, Cat Power and Jesse Sykes to Giant Sand, My Morning Jacket, Drive by Truckers and the Mekons.
Bringing the celebration to you.