Event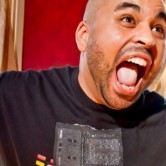 DJ Natty Heavy or The Club Bullies "Every Wednesday Night"
Venue:

Wednesday Night

Doors:

9PM
Nate Lopes
one of the most in demand DJ/host in the Lowcountry, goes by the moniker DJ NattyHeavy. Nate began his career at the tender age of 13 in his hometown of Providence, Rhode Island. He now resides in Charleston, SC where he has solidly made his name in the entertainment arenas, including being voted Charleston's "Best Club DJ" by the Charleston City Paper in 2013 and 2014.
http://www.nattyheavy.com
The Club Bullies Are
a collection of experienced, entertainers. Emcee's, Dj's and all around party rockers! The Bully's current roster consist of Dj UnieQ, KG Superstar, Paris P, DJ Wes Wunder and DJ Smiles. After obtaining individual sucess, the Clubbullies decided to work together in 2008 creating original tracks and putting on live shows like no other.
Together, the Clubbullies have performed in venues all over Los Angeles and Hollywood such as The Vanguard, The Terrace, Rhumble Studio's, Green Door and many more. Be on the look out for the Club Bullies coming to a venue new you.
THE CLUBBULLIES SOUTH
The Clubbullies South was formed in 2011 as an expansion to the Clubbullies Empire. Consisting of DJ's NattyHeavy, Precise, Y-Not & R-Dot as well as drummer Jonathan Mookie M-Beatz Morant, the Club Bullies South perform in venues all over the Carolina's maintaining the same level of energy and consistent professionalism as the Los Angeles based Club Bullies.
http://clubbulliessouth.wordpress.com