Event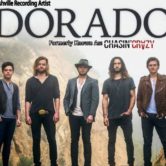 Dorado formerly Chasing Crazy W/ Sarah Hunnicutt
Venue:

Friday Night

Doors:

9PM – 01:30 am

Tickets Available at Door
Tickets are $5 at the door..Doors 9PM Show at 10PM
Hometown
Nashville, TN
Biography
Landon Parker (acoustic guitar/vocals), Travis Fincher, (drums/vocals), Jimmy James Hunter (lead guitarist, vocals), Creigh Riepe (keyboards/guitar, vocals) and Forest Miller (bass/fiddle/mandolin, vocals) are Chasin' Crazy.
https://www.facebook.com/TheBandDorado/
https://www.facebook.com/sarah.j.hunnicutt
The band first took shape in 2012 when Hunter and Miller met in Nashville while playing in separate acts at a show. It was out of this meeting, during which the two also met Fincher, that Chasin' Crazy was born. "Forest and I played together and instantly clicked," said Hunter. "We must've played every club in Nashville, before we decided that it was time to build on what we had, so we went looking for a drummer." "For some reason I remembered meeting Travis at that show years before, so I gave him a call to see if he was interested in joining us. He heard us play, and a few weeks later he joined the band."
"I was blown away by their musicianship and professionalism and I could already see the huge potential for an amazing future together," said Fincher.
For several months they performed as a trio until they were approached by Scott Siman and April Rider from RPM Entertainment who believed that they had the talent, musicianship and passion to be successful. The logical next step was to continue to build a bigger band with a bigger sound, which came by way of a fan of Hunter's who suggested he talk to Parker, who at the time had his own band in North Carolina. In awe of his vocal skills Hunter reached out to Parker to try and convince him to visit with them in Nashville. Parker made the trip and soon after realized that he was a natural fit for the band. He moved to Nashville and committed fully to the project. Reipe rounded out the group several months later bringing another dimension with his keyboards and vocals, when the band discovered him from his performances at Belmont University in Nashville.
Chasin' Crazy has spent the past two years together honing their craft, solidifying their bond, touring and writing songs together. Their name, the title of a song written by Hunter, captures the essence of the band at this time in their lives. Each member emphasizes the 'crazy' that we all pursue, the band's unflinching and focused desire to establish themselves as an elite Country talent.
The five-member group released their debut single "That's How We Do Summertime," written by Matt Ramsey (currently on the Country Single Chart with "Chainsaw"/The Band Perry and "Wake Up Lovin' You/Craig Morgan) and Tommy Karlas (Montgomery Gentry's #1 Country song "Roll With Me"), at the beginning of May. The single is an up-tempo, infectious, feel-good summer track about being with your friends and enjoying everything summer has to offer. It is already one of the most-added singles at Country radio.
"That's How We Do Summertime" was recorded at Westwood Studios in Nashville and was produced by Marti Frederiksenand Blake Chancey, who are in the studio working on Chasin' Crazy's debut EP that will come later this Summer. "These producers, who are from different worlds, have never worked together," said Miller. "We wanted to find something unique on the production side and we love working with them." Frederiksen is best known for his work with Aerosmith, Carrie Underwood, Daughtry, and Gavin Rossdale and Chancey, for his work with some of Country music's biggest artists including Dixie Chicks, Montgomery Gentry, Little Big Town and Mary Chapin Carpenter.
Chasin' Crazy's organic vocal harmonies have some comparing their sound to that of The Eagles, Little Big Town and Zac Brown Band, a comparison the band finds daunting, yet flattering. But whatever their journey brings Landon, Travis, Jimmy James, Creigh and Forest will be Chasin' Crazy.
https://www.facebook.com/TheBandDorado/