Event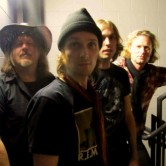 Drivin N Cryin W/ Tim Easton
Venue:

Saturday Night

Doors:

9:00 pm
Tickets are $15 available at the door
Doors 9PM

I Played Guitar on a Chain Gang or, things you might want to know about my fuckin' rock band
by kevn kinney
"We are a band that's like your record collection."
–That's a quote from me in one of the first articles ever written about drivin' n' cryin' back in the Eighties.
http://www.timeaston.com
We released our first album Scarred But Smarter in 1986 on 688 Records. 688 was the center of the underground Atlanta rock scene in the 1980′s. Bands as diverse as Hüsker Dü, Rank and File, Lords of the New Church, The Residents and a week-long stint by Iggy Pop graced the hallowed walls of that now-defunct night club. If you drive down Spring Street today, there's just a doc-in-a-box where the punk rock used to be.
I met Tim Nielsen just after I moved to Atlanta from Milwaukee. One night I was playing in a pickup band with Die Kreuzen, my good friends from back home.(Check out their Touch and Go records produced by Butch Vig.) They were staying on my floor, just passing through on tour. We played a lot of shows together a couple of years back when I was in a punk band called The Prosecutors, so we figured what the fuck? Let's see what happens.
Tim was there that night. He played in the big 688 band The Nightporters and was a rock star in Atlanta. He pulled me aside after the show and asked me if I lived down here. I told him that I had just moved to town and was working at the sewage plant, retired from the music world for good at age 24.
Tim stopped by my apartment one afternoon a couple of weeks later and TOLD me he was gonna find me a band to be in. My music was on the folk side of Dylan at the time but I decided I was up to playing just for the fun of it. He got me practicing with a few guys but it wasn't really happening, so eventually he decided we'd just start our own damn band.
Tim quit The Nightporters and stole their drummer and we played our first drivin' n' cryin' show at 688 in October 1985. A little over a year later, I'm sitting in my living room with an album, a real, freakin' 12-inch vinyl LP record called Scarred But Smarter.
I wanted to be in a band that would be unafraid of changing genres, mostly because I'm easily distracted and change subjects mid-sentence. "Needs help with self control," read every report card after fifth grade….smartass…underground comic-readin' journalistic wannabe…too lazy to write a complete story….I settled on the song format…it's perfect…a short poem…with its own soundtrack. At 24, I wrote:
"Nobody said it would be fair
They warned you before you went out there
There's always a chance to get restarted
To a new world, new life
Scarred but smarter"
At that time, I had restarted myself. I come from an industrial land of things that used to be: Milwaukee, Wisconsin, class of 79…a town, back then, that encouraged you to leave high school, get a job in a factory, get injured and then get workers compensation while picking up a side job at a liquor store or record shop where you got paid under the table.
2009′s "(Whatever Happened To The) Great American Bubble Factory was the perfect crescendo to a long twenty-plus year career of drivin' n' cryin'. I think we found the true essence of what we started to build back in 1985. It's the truth as we see it set to a soundtrack fueled by music we love, everyone from The Ramones, The Clash, The Seeds, Iggy, Dylan, Patti Smith Group, R.E.M., Thin Lizzy, The Rolling Stones. You get the point.
The song title for "(Whatever Happened to the) Great American Bubble Factory?" hit me one afternoon when I was at the dollar store getting some bubbles for the neighborhood kids. As I was standing in line, I looked down at the "made in" label and noticed that those bubbles were made in China…..China!! That's a long way for a bottle of freakin' soap to travel. Come on, maybe we can't make TVs or refrigerators or cars here anymore, but bubbles?
In my world, the first step to a renewed America and our deliverance from an unspeakable disrespect of the American workforce would be the opening of THE GREAT AMERICAN BUBBLE FACTORY. They would come from miles around to see the Willie Wonka of the New Deal….There's hope again!!! If you can make it here, why don't you make it here…..
We started demos for this record back in 2001 on September 10th. The next day the world was upside down and traitors were everywhere, underneath every coffee cup. Joe McCarthy was back and I just didn't feel like I was ready to tell the story of the blue-collared optimist…
"She said, 'Son, you're dreamin'
Well, ma, if I'm dreamin'
Just don't you wake me"
That record weaves in and out of the "Midwestern Blues" to the Flannery O'Connor South of "This Town" to the industrial grind of "Detroit City" to the optimistic anthem (and Dictators cover!!) "I Stand Tall" to the genuine pining for home in "I See Georgia."
I wanted you settled in, riled up, loaded for bear and somewhere out there on the road in search of the great American dream…..
Cut to 2011/12, Sadler Vaden joins the band (replacing Mac Carter on lead guitar), we cut a deal with Redeye Distributors to keep our records out there in the public eye, we sign on with the William Morris Agency to book our shows, and a new record release concept comes to mind…!
A couple months ago I was writing in the morning and my wife was listening to a record. She said I should record that song and I said 'well, I did.' It was the last song on the last record ! It dawned on me then that most people that listen to records don't usually listen past five or six songs, so I'm going to make a record with only five or six songs on it. In fact, I'm going to do four… Or five… Or maybe the rest of them this way!!!! This solves a lot of problems for drivin n cryin. I love the fact that we have never shied away from the fact we are influenced by so many different sounds. But sometimes combining them on one record can be somewhat disconcerting to a particular group of fans. I love that. I love the psychedelic element of challenging the listener. I mean it's all based on a library of music from our past… THE KINKS and THE WHO meet the RAMONES and THE COUNT FIVE at a little bar owned by BOB DYLAN and JOHNNY CASH… But the opportunity to focus on a specific genre or subject is exciting to me…. Also an opportunity to record with all the people we have been looking forward to working with is almost limitless… We would love to work all over the country with our friends and the five song format means we only need a few days of their time… I think people will be excited when they own a few and can contrast the different sounds and producers… We've completed number one, "SONGS FROM THE LAUNDROMAT" (release date: June 12, 2012). PAUL EBERSOLD is producing number two: "SONG ABOUT CARS,SPACE AND THE RAMONES"… I don't have the patience anymore for a two year recording project, a big build up as if you're JD SALINGER, a tour and then reality again… I dont like hype… I just want to offer up my art for the fans or soon-to-be-fans. A five or six song recording every three months like a magazine subscription… I want it now!!! And I want it NEW!
Did you know….
Drivin' N' Cryin's Whisper Tames the Lion was the lowest debut in the Billboard Top 200 albums chart the same week that Dark Side of the Moon fell off that chart for the first time since its release.
Did you know….
Minneapolis 60s garage band band The Trashmen ("Surfin' Bird") had Tim's Uncle Gary as a member. They used to practice in his grandmother's basement.
Did you know….
Drivin' N' Cryin' is the only band to share a stage with Lynyrd Skynyrd, Sonic Youth AND Neil Young in the same twelve-month period.
Did you know….
The Violent Femmes' Brian Ritchie was Kevn's high school locker partner. They would go to his house after school and Kevn would watch Brian play guitar before they both watched 8mm porn films.
Did you know….
Peter Buck produced Kevn's first solo folk record MacDougal Blues, which is coming up on its twentieth anniversary. Peter also road-managed and played on the MacDougal tour (which featured our great, late friend Nikki Sudden) on his break from R.E.M.'s Green tour!!…
Did you know…
DNC's lead guitar player Sadler Vaden was voted Charleston's Best Guitarist 2011. Other Sadler highlights include playing the White House with The Blue Dogs in 2006 and appearing in the Ben Stiller/Robert Downey Jr. movie 'Tropic Thunder.'
did you know….did you know….did you know….did you know….did you know….did you know….did you know….did you know….did you know….did you know….did you know….did you know….did you know….did you know….did you know….did you know….