Event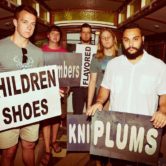 Dunder Chiefs W/ The Mobros
Venue:

Thursday Night

Doors:

9PM – 01:30 am

Tickets Available at Door
Tickets are $5 at the door…Doors 9PM Show at 10PM
Low Country Soulgrass
Making music for the soul. The Dunder Chiefs (TDC) blend elements of rock, bluegrass, folk, indie rock, a touch of funk, soul, and the sounds of the Lowcountry that combine amazing three part harmonies with infectious dance grooves.
https://www.facebook.com/dunderchiefsmusic
For their first EP "Galaxy Bound" The Dunder Chiefs recorded in Charleston with producer Steven Walker back in June of 2012. For their first show in their hometown of Rock Hill they started a small following of devoted followers that quickly spreading the word about their talent and live showmanship. The Dunder Chiefs were created after the the lead singer (Will Thompson) and the bassist ("Nog" Michael Linog) ended their last band Polar War. When "Nog's" brother moved to town and started singing with them Will picked up the acoustic guitar and "Nog" started playing the banjo and the Dunder Chiefs were created.
As of 2015 they have added a rhythm section comprised of Brady Suit holding it down on the drums, and Lucas Bunch on the bass. So now the Dunder Chiefs are rocking harder than ever! Come join the party
The Mobros
THE MOBROS are Kelly & Patrick Morris. The name, "THE MOBROS" simply stands for "Morris Brothers." But while the chosen name for this electric songwriting duo may be simple, their songs are not so simplistic. Growing up in rural South Carolina the brothers' learned to draw from their surroundings, blending the sounds of Soul, Rock & Roll, and Americana. Their music is both decidedly dark, and yet light in nature.
What is immediately gripping about the brotherly music is their flourishing harmonies, their melodic layers stacked seemingly effortlessly, and their intriguing style of lyricism. From early on Kelly and Patrick loved to sing. For fun they would often record themselves on an old tape recorder that they shared emulating their favorite artists and gradually leading them to record their own original music. By listening to performers like The Everly Brothers, Andy Williams, Michael Jackson, THE BAND, Sam Cooke, and the Bee Gees; THE MOBROS discovered their fondness for vocal harmonies.
To expand and support their vocal harmonies as a duo, Kelly, creates a labyrinth of notes with his classical guitar and fingerstyle technique while playing dual guitar and bass parts. Patrick, who is sponsored by Anchor Drums, adds his inflections of "in the pocket" Jazz, Soul, and Rock & Roll drumming technique rounding out this virtuosic duo. Kelly and Patrick began studying their respective instruments from a young age, Kelly (Guitar), and Patrick (Drums) quickly gravitated to playing together, playing a range of music by THE BAND, The Beatles, Marvin Gaye, Eric Clapton, and later performing in the jazz band at the High School that they attended in Columbia, SC.
In 2013 they were hand picked by the Blues legend B.B. King, to be the touring opener for a few of his Southeastern Summer tour dates, and shortly after that they released their debut album "Walking With A Different Stride".
Recently they were asked to record a live session for the prestigious music streaming site known as DAYTROTTER, which has come to be known as a rite of passage for up and coming and established acts.
Along with these other credits they have also played their fair share of festivals, for example, St. Pats in Savannah GA, Atlanta's Sweetwater 420 Fest, Greenville's Artistphere International Art Festival, Eco Fest in Jacksonville, FL, Earth Day Festival in Myrtle Beach, SC, Columbia's Blues Festival, the Carolina Homegrown Music Festival, Fall For Greenville Music Festival, Sautee Jamboree in Sautee Nacoochee, Ga and the Free Times Music Crawl. About 40,000 revelers were at St. Pat's in Five Points when THE MOBROS played a headlining slot in 2012.