Event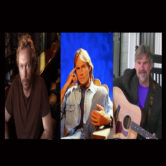 The South Carolina Hit Songwriter Show w/ Rob Crosby, Ed Hunnicutt, John Brannen
Venue:

Thursday Night

Doors:

7PM – 12AM
Tickets are $15…Doors 7PM Show at 8PM
This is a seated show!!!
They Write the Songs
Rob Crosby, Ed Hunnicutt, and John Brannen pen tunes for Nashville's best
http://www.robcrosby.com
https://www.facebook.com/ed.hunnicutt.5
http://www.johnbrannen.com
Latest in Features
Dead Confederate's T. Hardy Morris mixes rock noise and country heartache in his solo work
CP writers choose their favorite records from 2016
The Whigs frontman Parker Gispert finds his solo voice
Charleston native Mike Collins Jr. still follows his pre-war muse
Local artists reflect on post-'slave baby' climate in the music scene
More »
While realtor Ed Hunnicutt handles properties by day, he works as a professional songwriter and performer by night.
Hunnicutt has more than a few sets of original tunes, but he's not simply an independent artist, strumming and singing his own songs from gig to gig. He writes almost as many compositions for the stars of Nashville as he does for himself. It's a practice he and two of his closest friends — Rob Crosby and John Brannen — have maintained for years.
"It wasn't until I went to Nashville that I understood what separated good songs from great songs," says Hunnicutt. "Through several mentors, I learned how to say the same things that have been said over and over in a way that they haven't been said yet."
Influenced by Kris Kristofferson, Hank Williams, and James Taylor, Hunnicutt has written songs for such country luminaries as Willie Nelson, Brooks and Dunn, Mickey Gilley, and the Oak Ridge Boys.
"I feel my best work was done from my heart through personal experiences that somehow matched what a particular artist was feeling at the time," Hunnicutt says.
He hooks up with fellow songwriters Crosby and Brannen this week at the Windjammer at an event billed as a "hit songwriter show." The three men have been great friends and mutually supportive musical colleagues since their early 20s.
"We don't get to see each other as often as we'd like, but we stay in touch," says Crosby, a Sumter native who worked in the Lowcountry before relocating to Nashville.
Crosby excelled as co-writing partner when he arrived in Nashville. The list of country acts covering Crosby's songs include Lee Greenwood, Brooks and Dunn, Trace Adkins, Martina McBride, and, most recently, Lady Antebellum.
"Many of the more country-flavored songs I've written were definitely with more traditional Nashville artists in mind, but those songs don't seem to get cut," Crosby says. "The ones that get cut are usually songs I would be proud to record myself."
Brannen, a Savannah native who grew up in the Lowcountry, specializes in Southern-styled country-rock. His twangy songs and hearty singing have earned praise from fans and critics over the years.
In his early career, Brannen spent time in New York, Los Angeles, and Nashville. Brannen's songs have been recorded by Tom Rush, Reba McEntire, Richie Havens, and Johnny Rivers. Most recently, the Eagles cut a version his tune "Somebody" on their Long Road Out of Eden album.
As the out-of-towner of the bunch, Crosby looks forward to returning for the get-together with his old pals. He expects a healthy variety of styles and dynamics within the set.
"Ed's the more traditional, John's the rocker, and I'm the milquetoast," Crosby says. "With decades of material to pull from, there'll be no shortage."
The event will resemble a traditional Nashville-style "writers in the round," where all three songwriters will be seated on the stage in a semicircle.
"We'll ask the audience to shut up and listen, and we'll talk about how we wrote these songs, what inspired them, and how they came to be recorded," Crosby says.
Hunnicutt is equally excited about the show, especially the chance for them to tell the tales behind each song. "There'll be lots of interaction in the songs as well as the stories," he says. "The great thing about the format is that it's not structured and, thus, wide open to surprises."