Event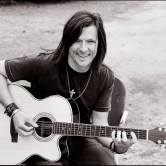 Eddie Bush
Venue:

Friday

Doors:

9PM

Tickets Available at Door
Tickets $5
Doors 9:00 Show at 10:00ish
Ages 21UP or with Parent
https://eddiebush.com/shop/thenextrightthing
Eddie Bush has been hooked on playing the guitar since age 4 when his father traded a set of golf clubs for an old acoustic. From that point forward, making music became his heart's primary desire. His passionate, unending drive and innate musical talent had this self-taught, guitar-slinging singer/songwriter performing original material at a school talent show by the age of 13.
Eddie became a veteran of the Southeastern music scene with multiple CD releases to his credit before taking it to the national level in 2005 with his Infinity Nashville debut CD, Eddie Bush. The disc produced the Billboard Hot Country Single "Hard To Stop A Train", as well as a video of the tune, which earned rotation on several music related TV channels, including Great American County (GAC).
The momentum built from "Hard To Stop A Train's" unexpected success led to the attention of Nashville notables, and by 2006 Eddie had become a member of the harmony group One Flew South, created and produced by GRAMMY® winning hit songwriter Marcus Hummon. The band was featured on the soundtrack of Disney's The Fox & The Hound 2, and signed to Decca Records/UMG in November the same year. One Flew South's full length disc Last Of The Good Guys produced the top 40 Billboard Hot Country Single "My Kind Of Beautiful" as well as its popular video, recently named in the top videos of 2008 by GAC.