Event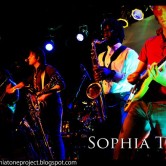 Electric Attitude
Venue:

Tuesday Night

Doors:

9PM

Tickets Available at Door
Tickets are $5 at the door. (Doors 9PM)
2013 HPMA Winners – "Best Soul/Funk/R&B"
New LP "Skintight & Solid Gold" available on I-Tunes and in record stores around Houston and NOLA.
Biography
Only a city as eclectic as Houston, Texas, could generate a band as unique as Electric Attitude, 2011, 2012, and 2013 Houston Press Music Award winners for "Best Soul/Funk/R&B" act. Blake Shepard, Kwesi Sackey, and Jordan Bell formed the nucleus of the band in the summer of 2008, and as the thousands who have seen them perform since that time can testify, EA have the power to liven up any audience and turn any room into a dance-floor. Newcomers often walk away from EA shows as fans, and are left with the feeling that they've attended a great party. As Kwesi says, "Our goal is to make music that makes you feel good and sexy, and also makes you shake what you got!"Unwilling to limit themselves creatively or be musically stereotyped, the members of Electric Attitude draw upon diverse influences including rock, blues, funk, soul, and disco, and fuse them into a new and exciting sonic mix. Jordan's rhythmic, rocking guitar riffs spiral around Kwesi's thick, danceable bass lines, while front-man Blake's soulful and sultry vocals find the happy medium between Mick Jagger and Jack White.
With drummer Michael Hatter and James Murphy on saxophone, the energetic group maintains a schedule as relentless as their beats, and their commitment to putting everything they have into their performances has solidified their reputation as one of the tightest, most accomplished live acts in the city. In 2010, Electric Attitude garnered a lot of attention and strong reviews as they branched out to the Midwest on a 12-date "Breakdown and Shake Tour" in support of their popular 2009 EP, Laser Laser Laser Beams.
Electric Attitude have consistently added to their experience via double-bills with such high-caliber national and international acts as Bonobo, Dengue Fever, The Pharcyde, The Bright Light Social Hour, Galactic, Octopus Project, and Semi Precious Weapons (fresh off a sold-out tour with Lady Gaga). 2011 found the band winning their first Houston Press Music Award and playing to a packed house as the opener for 100 Monkeys on the Main Stage of House of Blues – Houston. EA kept the momentum rolling into 2012, further expanding their sound with the addition of Matthew Hartnett on trombone and Stephen Forse on trumpet, and taking home another trophy for "Best Soul/Funk/R&B" act.
Inspired by experiments with bass effects pedals and electronic instruments, specifically the EWI (Electronic Woodwind Instrument), Electric Attitude took to The Womb in Austin, Texas, to create new studio sounds for 2013. Fans who have been awaiting new recorded material are now being rewarded with the release of EA's first full-length album, Skintight & Solid Gold, on the new Houston label, GR8-Heights Records. "With this album," Blake says, "we are pushing beyond Laser Laser Laser Beams, adding horns and taking our music to the next level."
Where will the days ahead lead Electric Attitude? For a group that thrives on the positive vibes of enthusiastic crowds and finds equal excitement in the recording studio, the future holds a million golden possibilities. For now, pick up Skintight & Solid Gold at your favorite record shop—or catch EA live—and get in on one of the best parties Houston has to offer.
Band Interests
Strong drinks, loose women, and bad decisions.