Event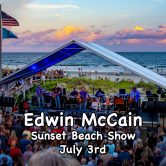 Edwin McCain…Outdoor Sun Set Concert..No Opener
***Tickets are $30 and will sell out today
Doors 6:00 Show at 7:00…
The first 500 tickets have been sold. Tickets sold after 6/17/19 will only be good for an Out door show. If the show has to be moved indoors for any reason these tickets will not be valid and will be promptly refunded back to the credit card from which they were purchased.
This Show will take place outdoors on our Volleyball Court. If for any reason this event needs to be moved inside The Windjammer only the first 500 tickets sold will be valid. Tickets not valid (If moved indoors) will be labeled and marked at the time of purchase and will be automatically refunded to the Credit Card used for purchase.
This Show is 18+ or with Parent
Our Sunset Concert Series is Sponsored by: Bon & Viv Spiked Seltzer
Called the "great American romantic" by the New York Times, Edwin McCain has built an enviable career over the past 20 years by balancing his massive pop success with the year-round touring schedule of a tireless troubadour. His hit songs, authentic spirit and surprisingly affable sense of humor keep fans coming back time and time again for nights that feel more like parties with old friends than rock concerts. After recording two of the biggest love songs in the history of pop music, McCain now performs upwards of 100 shows annually throughout the US as a solo artist, with his full band or his acoustic trio. Recently, he's added orchestras to his repertoire, performing with symphonies in select markets where he brings his powerful songs to majestic new heights.
Those enduring love songs (and wedding must-haves) "I'll Be" and "I Could Not Ask For More" aren't just for the romantic at heart; "American Idol" and "The Voice" contestants turn to Edwin's ballads every single year to help them win over judges and fans alike (just ask last season's AI winner, Nick Fradiani). Even Justin Bieber has been known to belt out "I'll Be" during his own concerts.
Earlier this year, McCain suddenly found himself with a whole new crop of fans when his "Flipping Ships" television show debuted on Animal Planet. "Flipping Ships" took him from the chart tops to the boat shop – his very own Boats Have Souls (www.BoatsHaveSouls.com), a restoration outfit dedicated to bringing life back to vessels and customizing them to perfectly fit their new owners. "We started the business to put good boats into good families' hands by restoring them in ways that might otherwise be financially out of reach," Edwin explains. Viewers were fascinated by the blood, sweat and the occasional tear that he poured into his renovations while rehabbed boats found new life and new owners, including a few non-profit organizations in his homestate of South Carolina. Just like his songs, Edwin's boats all have a story to tell; about the people who built them, Edwin's team who defies all odds to reconstruct them, and the families who take them home.
But his heart remains on the road. Once the "Flipping Ships" season ended, Edwin picked up his guitar once again and returned to the stage. Whenever he can, he likes to drop by favorite club haunts, a comfortable return to his early days that delights both his fans and himself. "The 15-year-old me would have crawled through a river of fire to be the 41-year-old singer/songwriter that I am today, and I remember that. I am incredibly grateful to be able to do this."