Event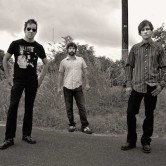 Fastball W/Matt Mackelcan
Venue:

Friday Night

Doors:

9PM

Tickets Available at Door
Tickets are $15 Day of Show…(Doors 9PM Show time 10PM
Fastball was formed in 1994 after Miles and Tony were introduced by a mutual friend. Joey was brought in and the band was playing live shortly after forming.
http://www.fastballtheband.com
The band was signed to Hollywood Records in 1995 and released three albums on the label – Make Your Mama Proud (1996), All The Pain Money Can Buy (1998), The Harsh Light of Day (2000) – and had four hit singles – "The Way," "Fire Escape," "Out of My Head," and "You're An Ocean."
The band was dropped by Hollywood Records in 2001 following poor album sales and label management changes. Hollywood subsequently released a 'Best Of' collection in 2002.
After taking some time off and apart Fastball came back together to record a live acoustic album – Live from Jupiter Records (2003) – and Miles and Tony embarked on a couple of successful acoustic tours. The band was picked up by Rykodisc and released Keep Your Wig On (2004) which proved to be the band's most natural and collaborative effort to that point. Again, following low album sales and inner label shake ups, the band found themselves without promotional and financial support, and were subsequently dropped from the label by late 2004.
After being dropped, the band members again decided to take some time apart and work on side projects. Tony released a series of solo EPs and embarked on a nationwide acoustic tour. Miles formed an "all star" cabaret/lounge music group called The Small Stars who released two regionally successful albums. Joey joined a couple of Austin bands, as well as playing in Tony's full band lineup The Tony Scalzo Machine.
Around mid 2007, the band regrouped and began working on new material for the next Fastball album. Unlike prior albums, the band played the majority of the new material at their live shows throughout the writing/recording process, gaining popularity and much positive review from fans. Little White Lies (2009) was released independent of a label and has received many positive reviews. Both fans and reviewers note it as being the best music produced to date by the band.