Event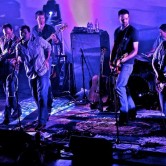 Five Way Friday & The Blue Dogs
Tickets are $20 Advance online only or $25 DOS …Doors 8PM Show at 10ish
The Blue Dogs tell us they are going on at 9PM
Biography
The band formed in 1997, playing gigs across the Southeast and releasing a full-length album (MOON DRIVEN WORLD) and two EPs over the course of the next three years.
https://www.facebook.com/FiveWayFriday/
In 2000, Run Like This reached #4 on Billboard's Top Internet Albums chart. Subsequently, the band toured with Vertical Horizon & Cowboy Mouth and had several songs including "Homecoming" and "Everyone" featured in episodes of Dawson's Creek. In 2003 a full-length album entitled WRECKED was released, produced by fellow South Carolinian Mark Bryan of Hootie & the Blowfish.
Currently, the members of Five Way Friday are finding success in various fields. They are family men, lawyers and general pillars of the community. Mac Leaphart is currently moving forward as a solo artist. His 2008 release, "Line , Rope, Etc." received great reviews and was chosen as one of the best albums of 2008 by the Charleston City Paper. [facebook.com/macleaphart]
But, for as long as they have been apart, Five Way Friday is still relevant. The band has reunited numerous times over the years to aid in fundraising for local charities, including SOS (Save Our Suzy) and the Justice Jam – a fundraiser for Sister Care, sponsored by the South Carolina Bar Association. Last February, Five Way Friday performed for a packed house at the Windjammer on the Isle of Palms, and to date, has sold over 35,000 tracks on itunes.


https://www.bluedogs.com/home
(Charleston, SC, January 2, 2017): On Wednesday, December 28, 2016, the Blue Dogs once again took over The Charleston Music Hall in their hometown to celebrate 28 years of making music. This show marked the Americana band's fourth "homecoming" since their 25th Anniversary show in 2013, and to solidify it as annual affair, the band brought in MUSC's Children's Hospital in 2014 as a charity partner. By evening's end of the 2016 show–thanks to support from Tito's Vodka, a variety of local sponsors, donations of ticket holders, as well as a generous gift by an anonymous donor and the overall match by The Press On Fund (for pediatric cancer research)–the Dogs fetched over $150,000.00, all of which benefited the capital campaign for the new MUSC Shawn Jenkins Children's Hospital by funding the pediatric cancer research of MUSC Hematologist-Oncologist Dr. Jacqueline Kraveka.
The show was again a sellout, and as in years past, the show included special guest appearances, this year featuring Grammy-award-winning country artist, songwriter, and producer Shawn Camp from Nashville (by way of Little Rock, Arkansas), and Mississippi singer-songwriter Cary Hudson, formerly of the band Blue Mountain.
Past shows have included guests such as Darius Rucker, Hootie and the Blowfish, Edwin McCain, Radney Foster, Pat McGee, 2015 Georgia Music Hall of Fame inductees Drivin' N Cryin', SC native Sadler Vaden (guitarist for Grammy-nominated artist Jason Isbell), Doug Jones of Greenville SC's Cravin' Melon, acclaimed South Carolina singer-songwriter Danielle Howle, Matthew Mayes & John Felty of Brevard, NC's Jupiter Coyote. There have always been a number of Charleston-based acts involved as well, including Bryson Jennings, Uncle Mingo, Five Way Friday, Dangermuffin's Dan Lotti, Dave Dunning and Live Bait, Mac Leaphart, John Wesley Satterfield, Travis Allison, Carroll Brown, Charlie Thompson, and most of the former and current members of the Blue Dogs. Unannounced guests are expected each year.
The band continues to perform in 2017 on a regular basis at venues everywhere including clubs, festivals, and colleges as well as for corporate events, private parties, and fundraisers. They continue to maintain an international fan-base, with all 9 of their recordings available through iTunes and other digital portals via their distributor, Redeye, and their CD's, DVD's and other merchandise offered exclusively at their website, www.bluedogs.com. 2017 marks 29 years since standup bassist Hank Futch joined forces with longtime friend, fellow Cub Scout, and acoustic guitarist/vocalist Bobby Houck under the band name "Blue Dogs," and so they will celebrate their 29th Anniversary on December 29, 2017, once again at The Charleston Music Hall, and with many special guests to be announced later in the year.