Event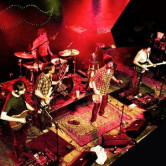 Fowler's Mustache CD Release Party
Venue:

Thursday Night

Doors:

9:00 pm

Tickets Available at Door
Ticket are $10 at the door. (Doors 9PM)
Free CD with Admission!
Since the fall of 2009, Fowler's Mustache has been playing the Charleston music scene with an eclectic mix of tunes incorporating a wide variety of styles and genres. Each member provides a different musical influence and perspective to help form a more original sound. The band experiments with a fusion of mainly rock, blues, folk, jazz and funk sounds combined with inspired and imaginative lyrics. They share a passion not only for developing their sound to its full potential but also translating it into an exciting and memorable live experience for both band and crowd alike.
The band is made up of singers/songwriters/guitarists Matt Stanley, Thomas McElwee and Nick Collins, accompanied by bassist Chris Richter and drummer John Tankersley. All five have grown up together in the Charleston area, and began playing in various local bands together in their more recent high school and college years. They share a chemistry and understanding of each member's musical tendencies, which helps promote smooth songwriting and live performance efforts.
In October of 2010, Fowler's Mustache released their first studio album entitled "The Album" recorded by the East Coast Party Band's Dave Fuller in his home studio. The album features 10 original tracks, two of which (Ain't Life Hard, Shine) have received local radio airtime.
http://www.fowlersmustache.com