Event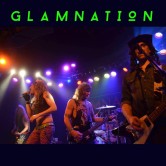 GLAMNATION (Charleston's Premier 80's Hairband Tribute)
Venue:

Saturday Night

Doors:

9PM – 01:30 am
Tickets $10 (Doors 9PM…Show at 10PM)
GLAMNATION! The Southeast's premier 80s Hairband experience. Nominated for best cover band of 2015! Spandex, Aqua-Net, Big Hair, An unforgettable show!
Welcome back to 1989! Ever wondered what happened to all of your favorite 80s ROCK STARS? Well, they moved to Charleston and started another band – GLAMNATION! Every show is played as if it is a sold out arena. Way too much bad-ass equipment, way too many guitars, entirely too much hair spray and guyliner; not to mention lights, fog machines, spandex and LOUD, FUN, ENERGETIC 80s HAIR METAL!!!!
https://www.facebook.com/glamnationrocks