Event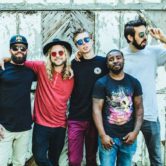 Of Good Nature W/Jouwala Collective
Venue:

Thursday Night

Doors:

9PM – 01:30 am

Tickets Available at Door
Tickets are $5 at the door…Doors 9PM Show at 10 PM
Of Good Nature is an indie rock-reggae five piece that was formed in Charlotte, NC in 2011 by front-man, guitarist Cameron Brown and drummer, percussionist Joey Vachon. Coming up in the thriving music scene in the Queen City has been vital to the band's early success, as well as the blending of rich musical styles which transcends foundations of rock-reggae to progressive instrumentals of funk and rock n' roll.
The 2011 debut album, Just Add Water, won Indie-Ville Reggae Album of the Year – Nashville, TN. On October 23rd 2015, their sophomore album, Life Worth Livin, debuted at #5 on the iTunes Top Reggae Album Chart. The band was featured in Irie Magazine : Cali Edition (November), scoring their own "Respect" multi-page write up; additionally, the title track was featured as The Pier's "Mp3 Leak of the Week" and is being spun on a number of traditional and internet radio stations. The prolific crew has already made it back to the workshop, recently hitting the studio with Ted Bowne of Passafire. The project is planned for release Summer 2017.
The OGN live show is turning heads all over. Embarking their funky-reggae-party onto Train's Sail Across The Sun Cruise (Tampa, FL – Costa Maya, Mexico) in Febraury of 2017, the band teamed up with Michael Franti and Spearhead, Arrested Development, Natasha Beddingfield, and more. The notable Reggae Rise Up Festival in St. Petersburg, FL added Of Good Nature to the already stacked bill through their Artist Discovery Contest in early 2017, along with Slightly Stoopid, Dirty Heads, Iration, Steel Pulse, The Green and MANY more.
Jouwala Collective
United in the heart of Richmond, Virginia in 2015, Jouwala Collective blends Gnawa music, traditional African and spiritual songs characterized by trance inducing chants and rhythms, with modern influences of funk, jam, jazz, rock, soul, reggae, blues, chaabi and electronic. Erie synth notes create a soft background over which are laid tribal tones of instruments from a world away resulting in an atmosphere of spiritual healing. Incredibly fast, dynamic drum rhythms keep your feet moving while the overall sound holds you in a dreamlike trance. Electric guitars and rock themes interweave so that the mood, and the room, can be transformed immediately and without warning. Set to release their debut album in early 2016, Jouwala Collective is a unique musical force soon to be reckoned with.
https://jouwalacollective.bandcamp.com
Born and raised in Philly and crash-landed in Charleston, John and Kevin Shields are the core members of the quirky indie hip-hop group Little Stranger. Whether performing as a duo or with a 5-piece band, Little Stranger is a fresh hybrid of John's singer-songwriter magnetism and Kevin's hard hitting, in-your-face delivery. Stylistically reminiscent of Gorillaz and Twenty One Pilots, Little Stranger inhabits a relatively unex- plored niche at this point in time. They're all about originality, every song is a separate work unto itself with all the strangeness that their name implies.