Event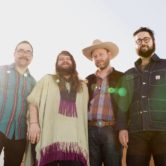 Great Peacock (Inside After JJ Grey)
Venue:

Thursday Night

Doors:

10PM

Tickets Available at Door
$5 at the door..
Spitting stories of love, loss and pain, Nashville's Great Peacock⎯⎯ comprised of lead singer and guitarist Andrew Nelson, guitarist Blount Floyd, drummer Nick Recio and bass player Frank Keith IV ⎯⎯ challenge the very notion of genre, dismantling tradition and blurring the lines between rock 'n roll, conventional folk music and true Americana. Having earned praise from Paste, the Nashville Scene, American Songwriter, No Depression, Relix and PopMatters, the band ignites a kind of unapologetic spark. As fixtures on the Southern festival circuit including Shakey Knees, they've shared stages with an abundance of equally-minded noise-makers, including Susto, Hurray for the Riff Raff, Cage the Elephant, American Aquarium, Margo Price and Jonathan Tyler.
"I'm a rolling stone / Yeah, I can't sit still," Nelson wails on "One Way Ticket," a prime cut from their upcoming second album, Gran Pavo Real (out Mar. 30 via Ropeadope Records), which is Spanish for Great Peacock. Their craft is instinctual, enlivened by their electric and nimble playing, gripping lyrical insight and Nelson's eviscerating vocals. Their grooves run thick, like on standouts like "Rattlesnake" (a swampy, mid-tempo song that relates addiction to a slithering serpent) and "Heartbreak Comin' Down." They also manage to cut right to the bone, particularly when they deal in restraint. "Take a little time to make things right / Make a little love in the middle of the night," Nelson ruminates on the languid and smokey "Oh Deep Water."
The tension and sweltering unease comes in waves across 10 tracks, often brittle and heartbreaking, other times ferocious and sharp. "A peacock has so many colors, and that's what we want our sound to be like. It's clearly rock 'n roll. It's clearly country. It's clearly folk. There's definitely blues and elements of R&B in there, too," says Nelson.
Recorded at Nashville's Sound Emporium, the album was helmed by industry stalwart Dexter Green (Jason Isbell, Elizabeth Cooke, Derek Hoke). "He brought a strange cosmic energy," says Nelson about Green. "He's sort of indescribable. You have to meet him to know who he is."
The scope of Gran Pavo Real is most remarkable, shifting between the slow-rolling "Hideaway" to the downcast "Let's Get Drunk Tonight" and the yearning of "All I Really Want is You." Spending very little time with overdubs or more than a few takes, the music came together within two days. My Morning Jacket's Tom Blankenship lends his smart musicianship to the entire lineup. Initially, his contribution was on only one song, but he fell in love with the work being made and asked to stay for the whole ride. Accomplished key player Ralph Lofton (Yolanda Adams, Jennifer Holliday) is likewise a prevalent musical force throughout the collection. "Ralph brought some soul to the project," notes Nelson. "It's really great, considering we recorded it live. This record has a real human interaction type soul."
Having grown up in a rather sheltered Pentecostal household in the suburbs of Birmingham, Alabama, Nelson tuned into the only secular music he was allowed to listen to: the local oldies station. "What really got me into music is the blues. When I was a teenager I really liked John Lee Hooker, Freddy King, BB King, and Buddy Guy. I think you can hear these influences in the new songs in some ways. At an early age, I learned how hitting the right chords at the right times could really mess with somebody's emotions."
It wasn't until he was 14 years old that he heard Lynyrd Skynyrd's "Free Bird" for the first time, and it changed everything. "When I heard the guitar solo, I freaked out. I went downstairs and started playing my brother's guitars when he wasn't home. I taught myself how to play because I loved that song so much. I would get my ass kicked for breaking his strings, though. I had to learn fast, and I knew I wouldn't get a guitar from my parents if I didn't already show some interest or effort."
Later, when he was 18, the next piece of the puzzle fell into place. His father had just passed away, and on the ride home from the funeral, his sister, "who always had really good taste in music," as Nelson remembers it, put on Ryan Adams' "When the Stars Go Blue." The performance crushed him. "I started hearing all the little country influences. I thought it was awesome. I didn't know I liked country music. Then, I went from Ryan straight to George Jones. From that moment on, I became way more obsessed with country music than rock 'n roll."
After college, he moved to Nashville to pursue his musical career and that's where he met bandmate Blount, who "grew up on '90s country." The pair hit it off almost immediately. "We instantly went out and got a case of beer and shotgunned them. We started playing and writing songs together. We found out we sang together pretty well."
Late one night, when they were drunk on Bushwackers, Great Peacock was born. "We jokingly said we were going to start a folk band, and we wrote a song called 'Desert Lark,'" recalls Nelson. Close friends and family raved about what they had nonchalantly created. The band soon became a reality in early 2013, and their debut album Making Ghosts arrived two years later.
On Gran Pavo Real, the band spread their wings and easily glide into bolder territory ⎯⎯ without sacrificing their genre-bending artist stamp, of course. Americana music is a state of mind, a way of living fraught with stories of heartache, lonesomeness, and desperation. That is certainly the case for Great Peacock, whose style is an amalgam of American design bred of southern tradition.