Event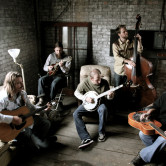 Greensky Bluegrass W/The Royal Tinfoil
Venue:

Thursday Night

Doors:

8PM

Tickets Available at Door
Tickets are $15. (Doors 8PM)
If you're familiar with bluegrass music, then you're tuned in to some of what Greensky Bluegrass does.
http://greenskybluegrass.com
http://www.reverbnation.com/theroyaltinfoil
They're also known to throw a great party, rock n roll, and (if the critics are to be believed) they have great songs. They are unquestionably a team of friends that traverse the country making music they enjoy. What makes Greensky different than Bluegrass? Poignant rural ballads about real people? Dobro tone that Jerry (Douglas or Garcia) would love? Distortion Pedals? Grit and attitude from a whiskey soaked card game? Indeed, but that's just the tip of the iceberg.
Description
"Having the word bluegrass in your name can limit expectations about a band, particularly when that band is Michigan-based Greensky Bluegrass, one of the most open-minded string outfits to ever deftly weave rock, folk, blues, country and yes, bluegrass into their own resonant creation. This pleasingly empathetic quintet moves with organic grace, finishing one another's sentences and rolling in a most conversational way, a true group effort that resonates with listeners in subtle, tangible ways." – Dennis Cook, Dirty Impound
Tickets Available at the Door