Event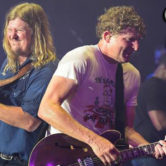 Greg Humphreys Electric Trio & Occasional Milkshake
Tickets Available at Door
Tickets are only $5 at the door…Doors are 9PM
Greg Humphreys Electric Trio (Greg, Matt Brandau, Keith Robinson) and Occasional Milkshake (Mark Bryan, Gary Greene, Hank Futch) are playing a double bill at The Windjammer on Thursday, July 28. Expect full sets from both groups and some fun jams at the end. We'll have our new trio LP "Lucky Guy" with us on CD and vinyl. See you there….doors at 9 PM!
Greg
Greg Humphreys Electric Trio warms up here in BKLYN with a show Friday, July 22 at Hometown Bar-B-Que in Red Hook. As with our recent album release show under the Archway, this show is family-friendly and free. Matt, Keith and I are doing a special run of double bills in the Carolinas next week with my old friend Mark Bryan, million-selling songwriter and guitarist for Hootie and the Blowfish. We'll be at The Windjammer in Isle of Palms SC on Thursday, July 28 with Occasional Milkshake, Mark's group with Hootie's Gary Green and The Blue Dogs' Hank Futch. Sittin' In a Tree, Mark's group with his wife Wendy, will join us on Friday, July 29 at 185 King Street in Brevard NC and on Saturday, July 30 at The Blind Tiger in Greensboro NC.