Event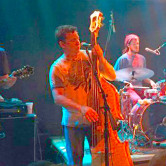 (Don't Call It) Hank Futch Going Away Party
Tickets Available at Door
$10 at the door
Hank Futch is moving to Philadelphia for a year or two to support his smart and beautiful wife Nolie as she takes the next step in her career. We are going to have a going away party for Hank but he wants he made clear that he will still be doing shows with the Blue Dogs, others, and will continue to be in Charleston often. So whatever you do, don't call it a going away show!
Many have enjoyed Hank's many performances, whether solo, with the Blue Dogs, Occasional Milkshake or the hundreds of times he's hopped up on stage with many local bands to belt out a tune or two. If you enjoyed any of these or somehow missed them all, come on out and join Hank, Family, Friends and a special guest or two at The Windjammer on July 22nd. Papa Futch and Hank are gonna kick it off about 7 with an acoustic/bluegrass jam with the full band starting around 9.
The show will benefit Jude Michaels, a local musician who is fighting liver cancer and needs a liver transplant. If you are unable to make the show, donations are still appreciated and can be made at http://www.gofundme.com/txxvfc
Come on out and give him a send off he won't soon forget. We'll see you there!