Event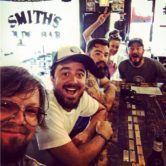 Jon Voight's LeBaron w/Josh Roberts & Friends
Tickets Available at Door
Tickets are $5 at the door…Doors 9PM show at 10PM
Not long after moving to Charleston, SC in June of 2015, Hans met up with guitarist Chris Fulmer at an all original open mic night called "Holy City Confessionals". From that time on, the two worked tirelessly to write new material and form a full working band. The process was slow, and at times frustrating, but the result eventually became The Eighty Sixers!
https://www.facebook.com/events/2020552881501920/?
Hans & Chris auditioned Zach Hudson on fiddle in December of that year through sessions with Travelin' Kine rhythm section, and friends, Jim Donnelly & Brent Poulson. Dan Wilson soon re-joined the band on drums 6 months later, after a brief hiatus to prepare for the birth of his first child. They have been working tirelessly ever since!