Event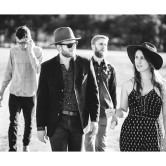 High Divers
Venue:

Thursday Night

Doors:

9PM – 01:30 am

Tickets Available at Door
Tickets are $5 (Doors 9PM Show at 10PM)
There is no hiding that each member of The High Divers hails from South Carolina. A subtle twang dots the roots rock n' roll
landscape from which the band pulls its sound and feel. "Riverlust", the group's debut album, is full of southern tinged
imagery that places you in the deep woods of South Carolina. It becomes clear after just a few verses that The High Divers,
though mining a vein uniquely their own, have a hard time getting the sounds from Laurel Canyon, Muscle Shoals, and The
Basement Tapes out of their head.
Setting out to make a record that no one could ever label as "slick," their music has edges that make it human, and infinitely
more honest. That is evident from the opening track, "Rising Water," as Luke Mitchell's powerful voice emits, "Can't Stand to die here, Working from morning till the day is dead, What good is money if you've got no friends?" With these lines, a theme emerges that weaves throughout the record: restlessness rooted in the need for change. Before The High Divers, frontman Luke Mitchell was playing for tourists 8 hours a day— singing other people's songs for folks who really could care less—all while watching his friends live their musical dreams, and sprint down their creative path with no fear. Tired of being a spectator to this, The High Divers were formed and an escape plan was hatched. All four members moved to Charleston on the same day and began recording, "Riverlust" shortly after. "Riverlust" is an album about pursuing the things you love with reckless abandon. It's a celebration of not giving up on your "kid dreams," as mentioned in the song "Troubles."
The history between the members existed long before the group became The High Divers. Luke (lead vocals and guitar) and Kevin Early (bass and backing vocals) played together in a 60's and 70's cover band at the ages of 14. Drummer Julius DeAngelis was recruited fresh out of high school by a Southern Rock band, and hit the road for a year of touring before joining up with Luke and Kevin. Mary Alice Connor joined the group just as the band arrived in Charleston, and filled the need for piano and additional vocals. With a wide range of influences, and thousands of hours logged, The High Divers create music that nods to the southern rebelliousness of Tom Petty, the raw beauty of Neil Young, and the genre clashing of Wilco, yet is leaning forward all the time.